Paul Manafort ordered to report to jail after alleged witness tampering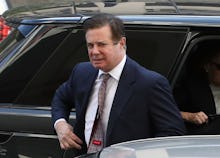 Paul Manafort will head to jail to await trial after a federal judge revoked his bail Friday, just a week after he was charged with obstruction of justice in special counsel Robert Mueller's ongoing Russia probe.
President Donald Trump's former campaign chairman, who is facing numerous charges, including conspiracy against the United States, "abused" the trust of the court, district judge Amy Berman Jackson reportedly concluded.
"I thought about his long and hard, Mr. Manafort," Jackson said, according to CNN. "I have no appetite for this."
Manafort was on house arrest ahead of a July trial in Virginia and a September trial in Washington, D.C., but the special counsel accused him earlier this month of attempting to tamper with witnesses related to his case and called for his bail to be revoked.
Manafort, who ran the Trump campaign in the summer of 2016, was originally indicted in October on 12 counts, including acting as an unregistered foreign agent of a foreign principal. In superseding indictments this year he was hit with additional charges, including money laundering and obstruction of justice.
Mueller handed down his most recent charges on June 8, charging Manafort and a former associate with obstruction of justice and conspiracy to obstruct justice.
According to Mueller, Manafort and Russian-Ukrainian political consultant Konstantin Kilimnik "knowingly and intentionally attempted to corruptly persuade another person" with "intent to influence, delay and prevent the testimony of any person in an official proceeding" from Feb. 23 to April.
Feb. 23 is also the date Manafort's longtime associate Rick Gates agreed to cooperate with the Mueller probe.
Manafort pleaded not guilty to those charges on Friday. He has maintained his innocence while unsuccessfully challenging Mueller's authority.
Trump has repeatedly downplayed the role Manafort played on his campaign, telling reporters in a wild press scrum Friday morning that Manafort worked for him for a "very short period of time." The president also said he feels bad for him, however, and left the door open to pardoning him.
Trump has previously suggested he wouldn't have hired Manafort if the FBI or Department of Justice had warned him about his work on behalf of pro-Russian interests in Ukraine.
"We should have been told that [James Comey] and the boys were doing a number on him, and he wouldn't have been hired!" Trump tweeted June 3.
Manafort led the Trump campaign from June to August 2016 — a period that included the Republican National Convention, where Trump formally received the Republican nomination for president.
During his time as campaign chairman, Manafort attended the Trump Tower meeting between Donald Trump Jr. and a Russian attorney who supposedly had dirt on Democrat Hillary Clinton.
The circumstances surrounding that meeting have been key elements of Mueller's investigation into possible collusion between the Trump campaign and the Kremlin, along with potential obstruction of justice on the part of the president.
Manafort's name also appeared in the controversial Trump-Russia dossier, the report compiled by a former British intelligence agent that made salacious allegations about Trump's connections to Russia. According to the dossier, Manafort was among those who "managed" the conspiracy between the campaign and the Kremlin.
Trump has denied any wrongdoing, routinely describing the Mueller probe as a "witch hunt."
In court Friday, Berman Jackson reportedly emphasized that the decision to revoke bail was about Manafort's conduct — not that of the special counsel.
"This hearing is not about politics, is not about conduct of the office of the special counsel," Jackson said, according to CNN. "The harm in this case is harm to the administration of justice and harm to the integrity of the court's system."
Manafort will report to jail immediately.
June 15, 2018, 1:37 p.m. Eastern: This story has been updated.