This week in food and travel: Expert tips for solo travel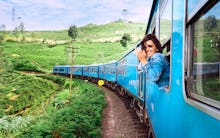 Virtually everyone who's done it recommends traveling alone. Maybe a solo adventure sounds enticing to you, but you're not exactly sure how to take the leap. This week, we spoke to travel journalist Stephanie Rosenbloom — who's been going on trips for one for more than a decade — about her top tips for solo travel. If you need a final push to see the world through your eyes only, this is it.
Packing light, forgoing toothpaste and buying the world's most comfortable socks are just some of the rules for exploring the world on your own. Read more here.
From barbecued skewers to mutton-and-squid dan dan noodles, the food in this college town in Rhode Island goes beyond American perceptions of Chinese cuisine. Read more here.
To experience the Caribbean as it was intended, one writer pledged to stay off email, Instagram, Facebook, Whatsapp and Twitter for the entirety of her trip. Read more here.
A week's worth of meals — from salmon and asparagus to black bean pasta — can be accomplished on a budget with a bit of planning. Read more here.