Virginia Beach's once-endangered oysters are thriving again — and so is its culinary scene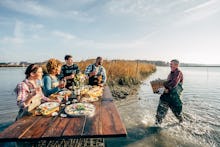 Positioned at the southernmost point of the Chesapeake Bay, Virginia Beach, Virginia, has always been blessed when it comes to food. The farm soil here is exceptionally rich, leading to incredible strawberries and corn. But it was oysters that first put this low-lying coastal region on the food map.
In 1607, Jamestown colonist Captain George Percy tried the local oysters and wrote that he was struck by their "very large" size and "delicate taste." Word spread about the half-shell wonders after the city's first seaside resort opened in the late 1800s. By the 1950s, it wasn't uncommon to see fishermen unloading packs of them out of coolers to sell on the side of the road.
But by the 1960s, rapid land development in Virginia Beach compromised the purity of the water. New roadways, rooftops and parking lots blocked the absorption of rainwater into the ground, and the run off — carrying with it lawn fertilizer, pet waste, toxic cigarette butts and sediments from construction sites — posed a serious threat to oyster populations.
The government finally stepped in with a preservation act in 1988, and any development within 100 feet of the shoreline was carefully scrutinized. For communities along the Lynnhaven River and its tributaries, these new regulations triggered a paradigm shift, forcing residents to think about water in a more responsible way.
"Starting in the early '90s, there was a greater awareness of the necessity to retain water on the land longer, allow it to soak into the ground, and filter it in some way," said Karen Forget, Executive Director of Lynnhaven River Now.
The Lynnhaven River is one of the eight official oyster regions of Virginia, and its restoration was a matter of local pride. But the clean-up didn't happen overnight. "It took a while to undo what we did wrong for 75 years," said 48-year-old fisherman Chris Ludford, who witnessed the tragic contamination of the Lynnhaven first-hand when he was a boy. There was also a bureaucratic issue: the Department of Health rigorously vets any region where oysters — or any shellfish — are harvested for human consumption. This is true all over the country, but in Virginia Beach, where so much activity is centered around the search for delicious raw oysters, the stakes are especially high.
Today, Lynnhaven oyster populations are rebounding — but local fishermen are careful not to let the same mistake happen twice. Today, instead of harvesting wild oysters, they breed them in hatcheries, which allows the wild populations to rebuild. "What we're doing is sustainable and conservation-oriented," Ludford explained. "Whatever I buy is what I harvest myself."
Over the last two years, Ludford's company, Pleasure House Oysters, has become a poster child for Virginia Beach's oyster revolution, advocating on behalf of organizations like Lynnhaven River Now and the Chesapeake Bay Foundation, which incentivize the city and localities to keep cleaning the water. While 50% of the Lynnhaven River is now considered safe for harvesting, Ludford is confident there's more work to be done. "We want to see that 50% become 75%. The more I can harvest from, the more oysters I can sell."
Of course, it doesn't hurt that his product is first-rate. Only one retailer and two restaurants, Terrapin and Commune, carry Pleasure House oysters ("We're very fortunate that they're willing to sell their product in here," Paul Schultz of New Earth Farm said), creating an air of exclusivity around the brand. Visitors who are interested in an in-depth look at the harvesting process can sign up for a "Chef's Table tour," a foraging cruise where Ludford takes 10 people aboard his boat, opens a bottle of wine, and drops them on a sandbar, where they shuck fresh oysters while knee-deep in the water.
Meanwhile, old-school seafood houses like Waterman's (which has its own fleet of fishing boats), Rockefeller's and Chick's Oyster Bar have jumped at the opportunity to serve Lynnhaven oysters again. When they suddenly reappeared on menus in 2008, "it was like taking part in history," local food columnist and oyster expert Patrick Evans-Hylton recalled.
In fact, the salty-sweet morsels are so popular now, growers are having a difficult time meeting the demand. "We really understand what we came close to losing," Evans-Hylton said. "There's a renewed interest and vigor in wanting to make Virginia Beach distinctive and a special experience for diners — I see a real commitment in every place I go."
Travelers who make it down to Virginia Beach will be charmed by the city's newfound culinary finesse. At Rodney Einhorn's locally sourced brasserie, Terrapin, seasonal soft shell crab is served tempura-style, hauled out of the water just a few hours before hitting the plate. And at the newly restored Cavalier Hotel, Chef Dan Elinan offers up roasted oysters on a pile of smoldering wood. "The oysters were bubbling away, and the aromatics were rising from the wood. You could almost imagine that's what the first settlers encountered when they landed at the beach," Evans-Hylton said.
Meanwhile, the encyclopedic raw bar of Catch 31 (an underwater-themed restaurant located inside the Hilton hotel) faithfully covers five of the state's eight oyster regions — think of it like a delicious geography lesson. (A $49 seafood tower, much of which is sourced locally, is also worth the splurge.)
For Ludford, this seafood revival has opened the door to meaningful conversation about water quality, which in turn helps the grassroots cause: "The oyster revolution goes hand-in-hand with the environmental revolution."