Trump continues to blame Democrats for breaking up families at the border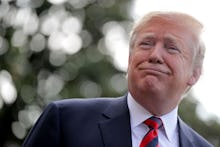 President Donald Trump on Saturday continued to attack Democrats over his own administration's policy of separating immigrant families at the U.S.-Mexico border.
"Democrats can fix their forced family breakup at the Border by working with Republicans on new legislation, for a change!" Trump tweeted Saturday morning. "This is why we need more Republicans elected in November. Democrats are good at only three things, High Taxes, High Crime and Obstruction. Sad!"
Trump's latest remarks are part of what appears to be an ongoing effort to rebrand one of his administration's most draconian, controversial policies as a Democratic law. It's a false claim, and one he's made repeatedly — perhaps most notably during a recent off-the-rails presser outside the White House.
"That's a Democrat bill," Trump said Friday. "That's Democrats wanting to do that."
But that's not true. The policy Trump has decried as "horrible and cruel" is something his own administration put forth — and something it has forcefully defended.
"If you are smuggling a child, then we will prosecute you and that child will be separated from you as required by law," Attorney General Jeff Sessions said in May, explaining the administration's immigration policy. "If you don't like that, then don't smuggle children over our border."
Under the "zero tolerance" policy, authorities prosecute all undocumented migrants as criminals. While adults are often sent to prison to await court dates, their children are taken from them and surrendered to shelters run by the Department of Health and Human Services.
In a six-week period from mid-April to the end of May, the Trump administration separated nearly 2,000 children from their parents, the New York Times reported Friday.
The administration has cited the practice as a "deterrent" against illegal immigration, but the Office of the United Nations High Commissioner for Human Rights has expressed "deep concern" about the policy, saying it runs "counter to human rights standards and principles."
Hardline immigration policies, including a promise to build a wall along the U.S.-Mexico border, were central to Trump's presidential campaign in 2016. He has frequently used migrant children, including Deferred Action for Childhood Arrivals recipients, as bargaining chips in his effort to enact his most extreme immigration measures.
"Put pressure on the Democrats to end the horrible law that separates children from [their] parents once they cross the Border into the U.S.," Trump tweeted in May. "Catch and Release, Lottery and Chain must also go with it and we MUST continue building the WALL!"