Chicago residents, Parkland students join forces in Summer of Peace march against gun violence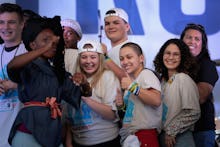 CHICAGO — Chicago residents and students from Marjory Stoneman Douglas High School in Parkland, Florida, joined forces Friday to say "no more" to gun violence at St. Sabina Church's 15th annual Summer of Peace march.
The rally kicked off the March for Our Lives' Road to Change tour, the student-led organization's summer initiative to energize and educate students across the nation. Organizers of the tour, which has more than 50 planned stops in 20 states, also hope to register young people to vote.
"We're here to just advocate for peace," March for Our Lives co-founder and student organizer Cameron Kasky said. "We're here to promote this community, helping each other, supporting each other, and spreading love and peace all summer."
Singer Jennifer Hudson, hip-hop artist Chance the Rapper, musician Will.i.am and former U.S. Rep. Gabby Giffords attended the rally, which began in St. Sabina Church's parking lot. The church's youth ministry performed; students leading the anti-gun violence movement in Chicago delivered speeches; and the crowd sang along to "Amazing Grace."
"Where we come from, only negativity is acknowledged," Hudson, whose mother, brother and nephew were murdered in Chicago in 2008, said. "We gotta come together on the positivity as well, and that's the only way we will ever be able to make a difference. And make sure y'all get out there and vote."
With help from the Rev. Michael Pfleger, a Catholic priest and activist who has worked in the local community for decades, Chance the Rapper led protesters out of the parking lot and into the streets of the South Side of Chicago.
The march literally woke up residents in the neighborhoods it passed through, leading people to come out to their doorsteps and storefronts to cheer on the march's participants. Chicago Public Schools student Elijah Easley said he had no idea the protest would wind up on the streets.
"I was just expecting to stand there, but then when I found out we were walking I was like, 'Oh my gosh,'" he said. "I feel different. Usually people of a minority and people like me, [we] don't really get a voice, but when we get a voice, it makes me feel like we can make a change and we can be the change."
The march returned to St. Sabina Church, where the crowd embraced the power they found in being together and declaring peace on their streets. The church will continue to march every single Friday until the end of the summer.
"I see young people rising up all around this country who are bold, who are courageous, who are impatient and who want to change this country," Pfleger said. "I want to encourage them."
Malick Mercier is your Instagram guide to the Summer of Peace march. Go watch the story on Mic's page here.