Trump on Inspector General report: "It will go down as a dark and dangerous period" in US history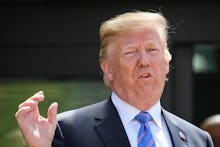 President Donald Trump on Saturday said a scathing report from the Inspector General "totally destroys" former FBI director James Comey, tweeting that the Department of Justice watchdog's findings confirm his claims that the Russia probe is a "witch hunt."
"The IG Report totally destroys James Comey and all of his minions, including the great lovers, Peter Strzok and Lisa Page, who started the disgraceful Witch Hunt against so many innocent people," Trump tweeted Saturday. "It will go down as a dark and dangerous period in American history."
Trump is pouncing on parts of a report by Inspector General Michael Horowitz released Thursday, which criticized Comey for his handling of the FBI's investigation into Hillary Clinton's use of a private email server but did not find evidence he was "politically motivated" in his actions.
The president has said the report "exonerates" him in the Russia probe, which he falsely claimed Friday had been "discredited" by the inspector general.
"I did nothing wrong. There was no collusion, no obstruction," Trump told reporters in a wild press scrum Friday. "The IG report yesterday went a long way to show that."
But the 568-page report did no such thing. It found Comey had "dramatically" broken from FBI norms in his handling of the Clinton probe in 2016, but did so in ways Democrats say hurt Clinton and helped Trump.
The report did, however, conclude Comey's actions had injured the reputation of federal law enforcement — and that texts between FBI officials Strzok and Page created the appearance of bias at the bureau.
The "great lovers," as Trump dubbed them, had exchanged a number of private messages critical of Trump. Strzok, who had helped lead the Clinton probe, was removed from the Russia investigation by special counsel Robert Mueller after the texts came to his attention.
"These messages cast a cloud over the FBI's handling of the [Clinton email] investigation and the investigation's credibility," Horowitz wrote. "But our review did not find evidence to connect the political views expressed in these messages to the specific investigative decisions that we reviewed."
Trump and his allies have used the texts as ammunition in their ongoing attacks on the special counsel, who is leading the FBI investigation into possible collusion between the Trump campaign and the Kremlin as well as potential obstruction of justice on the part of the president.
The investigation has brought down several members of Trump's inner circle, including former campaign chairman Paul Manafort, who was ordered to jail Friday after being accused of trying to tamper with witnesses related to his case.