Despite US concessions, Trump's Singapore summit played well with voters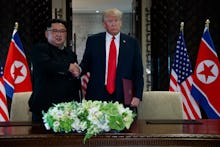 A majority of Americans believe President Donald Trump's historic meeting with Kim Jong Un was a success, according to recent polls.
In surveys conducted by Monmouth University, Reuters and Politico, more than 50% of voters said they saw the Singapore summit as a win for the president, even as they expressed uncertainty about what came from it.
The polls suggest the meeting contributed to a spike in Trump's approval rating, just months before the midterm elections in November.
Trump became the first sitting U.S. president to meet with a North Korean leader when he met with Kim on Tuesday in Singapore. The two signed a vague agreement in which Trump reportedly agreed to stop America's joint military exercises with South Korea, but did not appear to get concrete concessions from Kim.
According to the Monmouth poll released Thursday, 71% of Americans believe the meeting was a good idea; 51% said the meeting will "help reduce the nuclear threat posed by North Korea"; and 46% felt the summit made Trump look "stronger on the world stage."
The poll also found Trump's overall approval rating at 43%, a marked improvement from the end of 2017, when polls regularly found him at historically low levels of approval.
The polls provide a glimpse into voters' complex views of the high-stakes meeting. They also suggest Americans may not be familiar with key facts about the summit; according to Monmouth, for instance, less than half of those polled knew Trump had agreed to cease military exercises with South Korea in a major concession to Kim.
"The public still has a lot of questions about the North Korea situation that were not answered by this meeting," Patrick Murray, director of the Monmouth University Polling Institute, said in a statement.
Since the summit, Trump has boasted about his meeting with Kim in unrealistic terms, claiming he'd solved the North Korean nuclear issue and "everybody can now feel much safer than the day I took office."
"There is no longer a Nuclear Threat from North Korea," Trump tweeted Wednesday. "Meeting with Kim Jong Un was an interesting and very positive experience. North Korea has great potential for the future!"
But experts, many of whom remain skeptical Kim will give up his nuclear program, have expressed concern that Trump conceded too much. Further, critics say the president's visit lent legitimacy to a brutal human rights abuser on an international stage.
"We've legitimized a brutal dictator who's starved his own people," Senate Minority Leader Chuck Schumer said on the Senate floor Tuesday.