This week in Trump-Russia news: The IG report is Trump's latest weapon in his battle with Mueller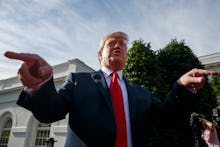 Donald Trump this week latched onto a report critical of former FBI director James Comey as part of his ongoing effort to undermine special counsel Robert Mueller, whose Russia probe has been "discredited" in the eyes of the president.
"The report yesterday may be more important than anything — totally exonerates me," Trump told reporters Friday. "There was no collusion, there was no obstruction and if you read the report, you'll see that."
But the inspector general's report Thursday did no such thing, and major developments in the Russia and Michael Cohen probes may soon put even more pressure on Trump.
Here's what came out of the Russia investigation this week.
Trump says watchdog shows he "did nothing wrong"
In a Friday press scrum that was wild even by his standards, Trump falsely claimed to have been exonerated by the Department of Justice watchdog, who concluded Comey had mishandled the Hillary Clinton email investigation in 2016.
"I did nothing wrong. There was no collusion, no obstruction," Trump said. "The IG report yesterday went a long way to show that, and I think that the Mueller investigation has been totally discredited."
The comments came a day after Inspector General Michael Horowitz released a lengthy report that found the former FBI director "dramatically" deviated from bureau norms during the Clinton probe, but did not appear to be politically biased in his actions.
Trump seized on the report, saying it vindicated his decision to fire Comey in 2017 and proved he is the victim of a "disgraceful Witch Hunt."
The president also used the report as an opportunity to renew his offensive against former FBI officials Peter Strzok and Lisa Page, whose texts bashing him have been cited as evidence of the FBI's anti-Trump bias.
According to the inspector general, the texts "raised questions about the [FBI's} objectivity," but there was no proof the officials' politics "directly affected the specific investigative actions." Still, Horowitz said, the actions by Comey and other federal law enforcement officials "negatively impacted the perception of the FBI and the department as fair administrators of justice."
Former federal prosecutor Patrick Cotter told Mic that while Comey may have "violated" FBI norms, Trump likely benefitted from the errors and his broadsides against the bureau could do more lasting damage.
"It is one thing to have agencies make mistakes, even terrible mistakes," Cotter said in an interview Thursday. "It is another to have the president of the United States repeatedly and forcefully accuse entire agencies of being corrupt at their root and in the hearts of the people who spend their lives working in those agencies and department."
Manafort jailed over witness tampering
A federal judge ordered former Trump campaign manager Paul Manafort to jail Friday, pending trial, after Mueller accused him of attempting to tamper with witnesses related to his case.
"This hearing is not about politics, is not about conduct of the office of the special counsel," Judge Amy Berman Jackson said Friday. "The harm in this case is harm to the administration of justice and harm to the integrity of the court's system."
Mueller alleged that Manafort — who led the Trump campaign from June to August 2016 — "knowingly and intentionally attempted to corruptly persuade another person" with "intent to influence, delay and prevent the testimony of any person in an official proceeding" beginning in February, when his longtime associate, Rick Gates, agreed to cooperate with prosecutors.
Manafort and a former aide were charged June 8 with obstruction of justice and conspiracy to obstruct justice related to the alleged witness tampering.
He was already facing a number of charges from the special counsel, including conspiracy against the United States and money laundering; he has pleaded not guilty to all charges.
Trump has repeatedly attempted to downplay his connections to Manafort, suggesting Friday it was too "tough" to send the former campaign head to jail.
"Wow, what a tough sentence for Paul Manafort, who has represented Ronald Reagan, Bob Dole and many other top political people and campaigns," Trump tweeted. "What about Comey and Crooked Hillary and all of the others? Very unfair!"
Cohen may be getting ready to flip
Meanwhile, Michael Cohen may be getting ready to flip on the boss he once said he'd "take a bullet for."
Trump's beleaguered former lawyer and fixer has reportedly been telling people close to him he expects he'll be indicted soon — and that he may cooperate with prosecutors.
Cohen has been under federal investigation for months for a number of potential crimes, including possible campaign finance violations related to his $130,000 hush payment to porn star Stormy Daniels.
Though his legal team has warned that Cohen could turn on him, Trump has publicly expressed confidence that his longtime associate will stay loyal.
But Cohen is feeling increasingly isolated from Trump, according to CNN, and may be open to cooperating with investigators — something that could pose a significant threat to the president.
Rumors that Cohen is preparing to flip intensified during a particularly busy legal week for him. He split with his legal team Wednesday; on Thursday, he filed a restraining order against Daniels' attorney, Michael Avenatti, whose ubiquity in the media has been a thorn in Cohen's side.
Avenatti's constant media appearances are "likely to result in Mr. Cohen being deprived of his right to a fair trial and threatens to turn what should be a solemn federal court proceeding into a media circus," according to Cohen's court filing.
Giuliani demands end to Mueller probe
Rudy Giuliani — the public face of the president's legal team — suggested Friday that Trump would use his pardon power to protect himself and his embattled associates.
"When the whole thing is over, things might get cleaned up with some presidential pardons," Giuliani told the New York Daily News.
It was one of the strongest attacks against Mueller he's leveled so far — and one of the most direct indications Trump could use pardons as a weapon in the Russia probe.
The president himself has left the door open to pardoning Manafort and Cohen if need be, even suggesting he could pardon himself if necessary.
Giuliani later walked back his comments, telling CNN on Friday that Trump "is not going to pardon anybody in this investigation, but he is not obviously going to give up his right to pardon if a miscarriage of justice is presented to him after the investigation."
He also said Friday the Mueller probe should be shut down.
Trump cops to drafting Don Jr.'s deceptive statement
Trump on Friday appeared to admit that he did, in fact, draft the misleading statement Donald Trump Jr. initially used to explain away his shady meeting with a Russian lawyer during the 2016 campaign.
He did not deny having written it after the Trump Tower meeting came to the public's attention in 2017, but suggested it was "irrelevant" because he was not under oath.
"Let's not talk about it," Trump said at the time. "You know what that is? It's irrelevant. It's a statement to the New York Times, the phony, failing New York Times. That's not a statement to a high tribunal of judges. That's a statement to the phony New York Times."
Trump Jr.'s infamous Trump Tower meeting with a Kremlin-connected attorney has been a key episode in Mueller's inquiries into both collusion and obstruction of justice.
Trump Jr. initially said the meeting had mostly focused on "a program about the adoption of Russian children," but he and other top campaign officials had actually met with lawyer Natalia Veselnitskaya to obtain damaging information about Clinton.
The president's recent comments on the Trump Tower meeting statement came during his off-the-cuff press availability Friday outside the White House. In the same presser, he said he hopes to meet with Russian President Vladimir Putin and doubled down on his call for Russia to be readmitted to the G7.
The country had been booted from the G8 over its invasion of Crimea in 2014.
Trump once again downplayed Russia's annexation of Crimea and blamed former President Barack Obama for it.
"President Obama lost Crimea," Trump said. "Putin didn't respect President Obama."