Here's how Beyoncé and Jay-Z dropped their surprise album, 'Everything Is Love'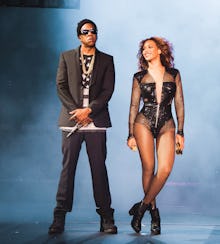 When Beyoncé and Jay-Z walked off stage Saturday during a stop in London for their joint On the Run II Tour, they left the crowd staring at three words lit up on stage: Album Out Now.
The couple was referring to their surprise joint album, Everything Is Love, which dropped Saturday on the streaming platform Tidal, three years after rumors of a joint record first emerged and a little more than two years after Beyoncé released the seminal album Lemonade that tackled the couple's marriage problems in the public eye.
Jay-Z followed Lemonade with 4:44, an album in which the rapper reckoned with his own infidelity and marriage woes. Jay-Z told the New York Times in November that he and Beyoncé had been "using [their] art almost like a therapy session."
The couple now appears to be on the same page with Everything Is Love.
Beyonce and Jay-Z on Saturday also released the music video for the track "Apeshit," a stunning visual experience shot in the Louvre museum in Paris that centers black dancers and singers in a traditionally white, Eurocentric visual space.
In the music video, the artists stand in colorful purple and blue suits in front of the famous Mona Lisa painting.
"I can't believe we made it," Beyoncé raps. "This is why we're thankful."
The famous location for the "Apeshit" video, directed by Ricky Saiz and shot in May, was somehow kept secret by everyone who knew about it. The album itself was released without any leaks or prior advertising.
Everything Is Love has nine tracks and is billed as an album by the Carters.