Roger Stone's meeting with a Russian contact fits into the broader web of Mueller's investigation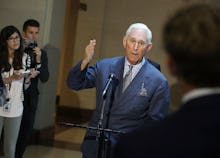 Former Trump campaign adviser Roger Stone met with a Russian individual peddling information on Hillary Clinton during the 2016 presidential campaign, the Washington Post reported Sunday. The report adds Stone to a list of nearly a dozen Trump campaign officials who had contacts with Russians during the campaign and, later, Donald Trump's transition into office.
According to the Post, Stone met with a man named Henry Greenberg in May 2016 at a restaurant in Sunny Isles, Florida. Another member of Trump's campaign, communications official Michael Caputo, arranged the meeting, during which Greenberg asked for $2 million in exchange for the dirt he purported to have on Clinton.
"You don't understand Donald Trump," Stone said he told Greenberg in declining the offer. "He doesn't pay for anything."
Caputo and Stone exchanged text messages after the meeting, according to the Post.
"How crazy is the Russian?" Caputo wrote. "Wants big &$ for the info — waste of time," Stone replied.
Stone and Caputo, both of whom spoke with the Post about the meeting, said they now believe it was a setup. They cited a court document in which Greenberg — then identified as Henry Oknyansky — claimed to have been an FBI informant. Greenberg told the Post in text messages that he was not working with the FBI at the time he met with Stone.
Though Stone said Greenberg came to the meeting alone, Greenberg told the Post he brought along a Ukrainian friend "identified only as Alexei," who claimed he had been fired from a job at the Clinton Foundation. Greenberg also denied asking Stone for money in exchange for Alexei's information.
Stone's 2016 meeting is now being investigated by Mueller and his team — and it certainly isn't the only Russian meeting under consideration. The meeting with Greenberg is part of a broader web of communications between Russians and the Trump team, and though Trump's associates have waved off the meetings as "inconsequential," their interactions are likely a focus of Mueller's ongoing probe.
According to the Post, the news of Stone and Caputo's Russian interactions means at least 11 Trump associates and campaign officials have now acknowledged having conversations with Russians during the Trump campaign or transition. The Post also reported in November that at least 20 known meetings took place between Trump officials and Russians during the campaign, and the two camps interacted at least 32 times during the campaign.
Here are the biggest Trump officials who have acknowledged speaking with Russians:
Donald Trump, Jr.: Trump Jr. has come under fire for his meeting with Kremlin-connected lawyer Natalia Veselnitskaya in June 2016, which he arranged after being told the meeting was expressly to help the Trump campaign by providing damaging information about Clinton.
Jared Kushner: Trump's son-in-law was also present for the Veselnitskaya meeting. During the presidential transition after the election, Jared Kushner also reportedly met with former Russian ambassador Sergey Kislyak in December 2016, along with Sergei Gorkov, the head of the state-owned Russian bank Vnesheconombank, which has been known to finance Kremlin projects. Kushner left his meeting with Gorkov off his security clearance form.
Michael Flynn: Former national security adviser Michael Flynn left the White House after it was found he lied about his communications with Kislyak during the presidential transition. During his December 2016 meetings with Kislyak, Flynn reportedly attempted to influence Russia's decisions on an upcoming United Nations vote and their reaction to Obama-era sanctions on Russia.
George Papadopoulos: Former campaign adviser Georage Papadopoulos is a former member of the foreign policy advisory panel to Donald Trump, and he reportedly had numerous conversations with a London-based academic that had ties to the Russian government. Those conversations allegedly included discussions about arranging a meeting between the Trump campaign and Russian officials. Though decried by the Trump camp as a "low-level volunteer," Papadopoulos was reportedly in contact with top Trump aide Stephen Miller about his communications, and he also brought up the possibility of a Trump-Putin meeting to Trump himself in March 2016.
Paul Manafort: Former campaign manager Paul Manafort, who was officially ordered to jail Friday for alleged witness tampering, has been indicted for his ties to pro-Russian politicians and interests in Ukraine. Manafort also attended the Veselnitskaya meeting with Trump Jr. and Kushner.
In September 2017, the Post reported that during the campaign, Manafort offered to provide briefings on the presidential race to Oleg Deripaska, a Russian aluminum magnate with ties to the Kremlin. The Post also noted that Mueller's team was looking at meetings and communications between Manafort and Konstantin Kilimnik, a Kiev, Ukraine-based employee of Manafort's political consulting firm.
Jeff Sessions: U.S. Attorney General Sessions, who recused himself in the Russia investigation, reportedly spoke with Kislyak at least twice during the campaign. Sessions initially denied the meetings, though later claimed they were part of his work with the Senate Armed Services Committee.
Michael Cohen: Before his current legal woes, Trump lawyer Michael Cohen reportedly emailed during the 2016 campaign with Felix Sater, a Russian-born real estate associate of Trump's and former FBI informant with potential ties to the Russian mob. In his emails to Cohen, Sater boasted about his ties to Vladimir Putin and proposed a plan to build a Trump Tower in Moscow, which he claimed would help Trump's candidacy.
Carter Page: Former campaign adviser Carter Page, who was targeted for recruitment by a Russian spy in 2013, traveled to Russia in July 2016 to deliver a speech at the New Economic School in Moscow. During the trip, which Page claimed was unrelated to the campaign, Page reportedly spoke with several Russian officials — reports about which ultimately caused him to leave the campaign. He also spoke with Kislyak in July 2016 at the Republican National Convention.