Members of Congress spend Father's Day with immigrants affected by family separation policy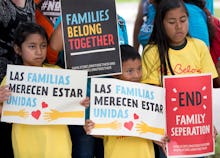 Amid reports from the Department of Homeland Security that 2,000 immigrant children have been separated from their parents at the border since April 19, Democratic members of Congress from throughout the country decided to spend Father's Day visiting those affected by the policy.
Sen. Jeff Merkley (D-Ore.) announced Thursday he would lead a group of lawmakers in a "#FathersDayofAction," which would include a trip to the U.S.-Mexico border in Texas Sunday. According to Wisconsin Rep. Mark Pocan, the group will visit a child detention center in Brownsville, Texas, where Merkley was previously barred from entering. They will also stop at a processing center in McAllen, Texas, where protests and an ICE press conference were scheduled to take place to coincide with the visit.
"Basically, we want to get to the bottom of how this zero-tolerance policy is actually a zero humanity policy that makes zero sense," Merkley said in a video posted to Twitter Sunday.
In addition to Merkley and Pocan, the group will also include Sen. Chris Van Hollen (D-Md.), Rep. Filemon Vela (D-Texas), Rep. Peter Welch (D-Vt.), David Cicilline (D-R.I.) and Rep. Vicente Gonzalez (D-Texas).
Members of Congress from New York and New Jersey also made their way to an ICE detention facility in Elizabeth, New Jersey, Sunday to meet with immigrant parents who had been separated from their children. After initially being denied entry to the facility for over an hour and a half, some of the assembled lawmakers were ultimately granted access to the prison, where they spoke with detained parents.
In a press conference, New York Rep. Jerry Nadler described meeting parents "who have no idea when or if they will see their children again," several of whom "were fighting back tears when we were speaking to them."
Nadler said the migrants they had met were from Central America and had been fleeing violence in their home countries.
Rep. Frank Pallone (D-N.J.) explained during the press conference that among those they met were a man whose brother was separated from him as well as a victim of gang violence who was separated from his 12-year-old daughter.
One man the group had met, Pallone said "came here with his 5-year-old daughter. He heard, because there's no way to know, that she's in Michigan, though he doesn't know for sure. When he crossed the border, they took his daughter ... while he was sleeping, at 3:00 in the morning. While he was sleeping, they snuck in and took the daughter away.
"He got on his knees and begged them when he saw that they had taken the daughter, and started crying. They took her away," Pallone continued.
Members of the press were denied access to the facility, and Rep. Bill Pascrell, Jr. (D-N.J.) noted that staff at the detention facility covered up the windows to keep press from seeing inside.
The delegation visiting the detention facility also included New Jersey Rep. Albio Sires and New York Reps. Adriano Espaillat, Carolyn B. Maloney and Hakeem Jeffries.
Protesters rallied against the policy outside of the Elizabeth facility during the lawmakers' visit, and separate protests took place across the country, including in Aurora, Colorado and in Northern California outside the West County Detention Facility.
Beto O'Rourke, who will be challenging Sen. Ted Cruz's seat in Texas this November, also announced he would lead a march Sunday against the policy to Tornillo, Texas, where a tent city for migrant children has been set up.
Trump has falsely tried to blame Democrats for the much-maligned policy, telling reporters Friday that Democrats "have to change their law — that's their law." There is no law that mandates family separation. Instead, the practice began in April after U.S. Attorney General Jeff Sessions announced a "zero-tolerance policy" to prosecute all undocumented immigrants as criminals, which forces parents into federal custody and separates them from their children.
"Parents fleeing such unspeakable violence will do almost anything they can to protect their children," Nadler said during Sunday's press conference. "They came to this country in search of the protection and the refuge that the proud inscription on the Statue of Liberty promises to those fleeing terror. But instead, they are being welcomed by more terror.
"These are the misdeeds of an administration speaking in our name that appears to lack a moral compass, that stands in defiance of our nation's history as a beacon for freedom and a refuge for the oppressed, and it shames our country by the actions it has taken," Nadler continued.