Sorry for questioning your infinite wisdom, Beyoncé. 'Everything Is Love' is it.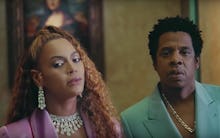 A lot has happened between the time the producer Detail first teased a joint project from Beyoncé and Jay-Z to Billboard magazine in 2015. The following year, Page Six reported there was indeed a collaborative album due soon on Tidal, and Jay-Z himself confirmed in an interview with New York Times' T Magazine that the married couple were making music together in November 2017.
I was admittedly initially curious about the thought of a duets album, but I got colder on the idea with time. Their recent musical collaborations have been just eh. Obviously, Beyoncé was perfection, but her other half? Not so much. "Shining" and "Top Off" made me far more excited about another Beyoncé solo project — specifically, an uptempo-heavy, Beyoncé-the-rapper-focused album — than Beyoncé doing a duets album with that husband who cheated on her. Yes, I'm still working on forgiveness, and yes, I know that it wasn't me he cheated on. Then, of course, they have a so-so record on their history of shared records, ranging from "Upgrade U" and "Crazy in Love" to songs I'd like to forget, such as "That's How You Like It" and "Hollywood." (This is the part where I make a reference to the grossly underappreciated "Déjà vu" because, well, it applies, and more importantly, it needs to be added back to the set list.)
By the end of 2017, we knew more than enough about their marriage, thanks to Lemonade and 4:44, and I was perfectly fine staying out of their business for the foreseeable future. In my mind, Beyoncé and Jay-Z were going to shoot for some hip-hop equivalent to Marvin Gaye and Tammi Terrell's You're All I Need and end up serving us Marvin Gaye and Diana Ross' Diana & Marvin. You know, an aight album that ain't really that lit. I thought it'd inevitably try way too hard to explain the pitfalls of love and marriage. That's all why I was a bit cool on the idea of an album and another joint tour.
Then Saturday evening happened. Beyoncé and Jay-Z released Everything Is Love exclusively on Tidal. When I turned on their collaborative album, Everything Is Love, and heard its opener "Summer," I was a bit worried. Beyoncé sings stunningly on the song, but it is very much in the family of Lemonade and 4:44. Do we need another incarnation of that? Yet, as soon as the second song, "Apeshit," started, I realized I'd made a mistake. I should have never doubted Beyoncé. I did this once before back in 2013, when after the releases of "Grown Woman" and "Standing on the Sun" led to no announced album date. I questioned if we were going to get one anytime soon. Then Dec. 13, 2013, happened — the epic surprise release of her self-titled album — and I had to atone.
In any event, though it arrived on the anointed time and not the appointed time, the Beyoncé I have been craving is finally back in full form. The Beyoncé who talks her shit. The Beyoncé who out-raps the greatest rapper of all time. The Beyoncé that reminds me of the Beyoncé that, when back in Destiny's Child, made a song about taking somebody's man over the same track as Tru's "Freak Hoes."
Oh, how have I missed this Beyoncé. When I heard "Stack my money fast and go (fast, fast, go)/Fast like a Lambo (skrrt, skrrt, skrrt)," I exhaled. The Beyoncé I call Traponcé in group texts has returned. (Thank God Beyoncé isn't bored with trap like some people.) And she has the nerve to have Quavo and Off Set, the Diana Ross and Mary Wilson with more respect of hip-hop, respectively, being her doo-wop, pop-pop chicks. A living legend, this woman is.
I can confirm that I became very emotional after hearing Beyoncé scream "Still diiiiiine for the 713" on "713." If you're from Houston, you understand. It was like a crawfish dinner in my ears. Equal parts emo for "I'm every body type. Goddamn right. I'm so nice. Jesus Christ. I'm better than the hype. I give you life!" on the divinely produced "Nice." Beyoncé is so self-aware.
Pure jubilee upon hearing this from "LoveHappy": "Yeah, you fucked up the first stone. We had to get remarried (yo chill). We keeping it real with these people, right? Lucky I ain't kill you."
And I will give credit to Jay-Z: Sans "Black Effect," Everything Is Love is undoubtedly a Beyoncé album featuring Jay-Z; he keeps up with her — a difference from most of their previous collaborations. I also love that by the end of "Ape Shit," where she goes out of her rap to out-rap him again and he quips "She went crazy!" he seems tickled and sincerely impressed that his wife can rap his ass off. Generally, the two sound incredibly happy with each other and given the recent depictions of their marriage problems in their music, it's nice to hear them on the other side.
That feels like the point of the album: They're happy as hell and clearly have no inhibitions about stunting on the rest of us with our regular bills having asses. It's hard to not sound happy when you are rich as these two are, though.
Enter the video for "Ape Shit." How much is the insurance alone to rent out the Louvre? I will not pretend to be Whitley Gilbert here and act like I have a degree in art history (there are some smart folks who can help with that here, though). But I will say that I love in this ultra-white, Eurocentric, colonial space, a black woman from Houston and a black man from Brooklyn can afford to shoot a music video here and fill it with so many varied images of blackness. They don't court those spaces and try to assimilate in it; they enter and remain themselves.
And while I know capitalism is terrible, it will not be dismantled in the coming days. To that end, even if an escapist fantasy, I enjoy seeing these two rich-ass black people insert themselves in spaces like those all while condemning the NFL, cursing the Grammys and being utterly dismissive of the current heavily stream-centric state of the music industry. They're leaning more into their symbolism, and in a lot of ways, serve as an example of what many thought Kanye West was supposed to become.
Now, if Beyoncé finds herself suddenly caring about radio singles again, she should certainly go with "Friends," which is already being captioned to death on an Instagram feed near you. And though it took a few more listens for me to catch on to"Heard About Us" and it may not be bop-friendly, it is quietly one of the more superior tracks on the album. Still, according to the hours since Everything Is Love was released, I'll have "Apeshit" on repeat to infinity and beyond.
Point is, the album slaps and is the perfect album to help me deal with the ongoing stress that is living in Trump's America. So, I'm very, very sorry for doubting you, Beyoncé. You knew what I needed and when I needed it when I didn't. Thank you for being so good to me, to us. If there's anyone reading this right now and thinking I sound crazy, escort yourselves out 'cause this ain't for you, this is for the BeyHive.
Under her eye!