Meet Jenn Nkiru, who helped direct Beyoncé and Jay-Z's grandiose visual for "Apeshit"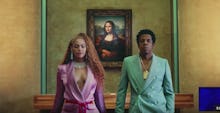 On Saturday, Beyoncé and Jay-Z surprise dropped Everything Is Love, their first joint album and follow-up compilation to revealing solo oeuvres Lemonade and 4:44. On previous projects, they gave us substance sonically and pushed barriers with visual counterparts. "Apeshit," the first music video from the album, carries on that creative spirit.
The six-minute cut for the boisterous track portrays an audacious takeover of the Louvre in Paris. Here we meet the "'03 Bonnie & Clyde," more refined, boss, allied and rooted in their love of blackness.
The grandiose "Apeshit" is directed by Ricky Saiz, who previously shot Bey's "Yoncé" video. However, one name really stood out in the credits: rising British-Nigerian filmmaker, Jenn Nkiru, who was second unit director for the visual. This marks another moment Bey and Jay have enlisted women directors following the work of Melina Matsoukas on Bey's Lemonade and Ava Duvernay on Jay-Z's "Family Feud." As a newcomer in a white- and male-dominated industry, highlighting Nkiru's work — which is also entrenched in black culture — is essential.
"I'm very interested in the concept of black universality — a centering of blackness from which others can also empathize and assign an aspect of themselves," Nkiru told the British Council this year.
This passion can be felt by watching her work. For instance Nkiru's 2017 short film "Rebirth Is Necessary" threads together striking clips of the black experience, through faces of the young and old and from vintage and modern footage. The film won best documentary in the 2018 London Independent Film Festival.
And "Apeshit" wouldn't be the first time Nkiru shot a film in a high-brow museum. In 2017, she did a short for International Women's Day at one of the Tate museum's celebrations of women artists. It featured Afro-British dancer Zinzi Minott whirling around the galleries.
Nkiru's first short film "En Vogue" is filled with stunning and energetic portraits of New York City's ballroom culture, a safe space for black and brown LGTBQ youth. Oscar-nominated Bradford Young was cinematographer for the visual.
Before directing, Nkiru worked as an assistant to veteran director Diane Martel, according to her bio on Creative Commission. As young as 15, she worked as a production assistant on film, she told British Council. Nkiru received her MFA in film directing from Howard University.
Like Nkiru, several young women music video directors are having a moment this year. Karena Evans directed visuals for Drake's latest singles "God's Plan," "Nice for What" and "I'm Upset." Janelle Monáe recruited Emma Westenberg for her labia-loving "Pynk." Also singers SZA and Syd of the Internet both directed flicks for their own songs as well. With "Apeshit," Nkiru takes her rightful place in this exciting new girls' club of directors.