Today in Trump's America: WH struggles to get message straight on its child separation policy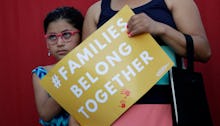 Welcome to Mic's daily read on Donald Trump's America. Want to receive this as a daily email in your inbox? Subscribe here.
Good morning from Emily Singer at Mic.
Here's what's happening in Trump's America:
• It's the second-to-last Supreme Court decision day of the term, and all eyes will be on whether the court releases opinions on the major cases it heard this year on public sector unions, gerrymandering and Trump's travel ban. Decisions will be released starting at 10 a.m. Eastern.
About the weekend: Trump administration under fire for policy that separates children from their parents
The Trump administration's policy to separate undocumented children from their parents has become a major disaster for the White House, with religious and political leaders from all sides of the spectrum issuing no-holds-barred condemnations of the administration for the policy.
Images surfaced over the weekend of children being housed in fenced-in cages, sleeping on cots on the floor with emergency mylar blankets. Stories emerged about some of the detained children being left to care for other detained children who are so young they are still in diapers, raising questions over separations taking place with very young children.
Father James Martin, a Jesuit priest, called the Trump administration's policy to separate children from their parents "pure evil."
"Like many, I've resisted using this word but it's time," Martin tweeted on Sunday. "The deliberate and unnecessary separation of innocent children from their parents is pure evil. It does not come from God or from any genuinely moral impulse. It is wantonly cruel and targets the most vulnerable."
Former first lady Laura Bush wrote an op-ed in the Washington Post Sunday calling the policy "cruel" and "immoral."
"Our government should not be in the business of warehousing children in converted box stores or making plans to place them in tent cities in the desert outside of El Paso," she wrote in the op-ed. "These images are eerily reminiscent of the Japanese American internment camps of World War II, now considered to have been one of the most shameful episodes in U.S. history."
And the editorial board of the New York Post — a conservative-leaning outlet owned by Rupert Murdoch — told the Trump administration to stop the policy.
"It's not just that this looks terrible in the eyes of the world. It is terrible," the New York Post editorial board wrote. "At least 2,000 children ripped from their parents' arms, sometimes literally, in just the first six weeks.
"We do not have a policy of separating families at the border. Period," Nielsen tweeted, a lie reminiscent of the lie former press secretary Sean Spicer used when he claimed the Trump inauguration had the biggest crowd in history.
Nielsen's lie is contradicted by her own comments from just a few days ago, when she testified on Capitol Hill that immigrant children would be separated from their families. It also contradicts comments she gave to NPR in May.
"If you are single adult, if you are part of a family, if you are pregnant, if you have any other condition, you're an adult and you break the law, we will refer you. Operationally what that means is we will have to separate your family," Nielsen told NPR. "That's no different than what we do every day in every part of the United States when an adult of a family commits a crime. If you as a parent break into a house, you will be incarcerated by police and thereby separated from your family. We're doing the same thing at the border."
Trump is also continuing to lie about the policy, blaming it on a nonexistent Democratic-passed law and saying it's Democrats' responsibility to come up with a fix — despite the fact that Republicans control both chambers of Congress.
"The Democrats should get together with their Republican counterparts and work something out on Border Security & Safety. Don't wait until after the election because you are going to lose!" Trump tweeted Sunday night.
Of course, this is all the Trump administration's doing.
Attorney General Jeff Sessions announced in May that the Trump administration was going to start prosecuting undocumented immigrants — rather than simply deporting them — and that those who brought children with them would be separated.
"If you are smuggling a child, then we will prosecute you and that child will be separated from you as required by law," Sessions said in a speech in San Diego.
White House aide Stephen Miller, a notoriously anti-immigrant crusader who is responsible for the Trump travel ban, defended the policy.
"It was a simple decision by the administration to have a zero tolerance policy for illegal entry, period," Miller told the New York Times. "The message is that no one is exempt from immigration law."
As the Trump administration struggles to get its messaging straight, Democrats have presented a unified front against the policy.
Democratic lawmakers spread out across the country over the weekend to visit detention facilities to shed light on the conditions children were being kept in.
And Sen. Dianne Feinstein (D-Calif.) has been gathering support for the Keep Families Together Act that would bar the Trump administration from separating families. So far, 48 senators — all Democrats — have signed onto the bill, and Democrats are seeking Republicans to sign on.
"48 senators now support the Keep Families Together Act. We're making progress, but we still need Republicans to join. If you're represented by a Republican senator, tell them to support S.3036," Feinstein tweeted Sunday night.
And the rest…
Jogging his memory: Former Trump operative Roger Stone amended testimony he gave to Congress in which he said he never met with Russian nationals who offered dirt on Hillary Clinton. In fact, he did: In May 2016, Stone and Trump campaign aide Michael Caputo met with a Russian man named Henry Greenberg, who wanted $2 million in exchange for dirt he claimed to have on Clinton, according to the Washington Post. Stone told ABC News he didn't tell congressional investigators about the incident because he "just didn't remember."