How Chris Hardwick's entertainment empire is reacting to sexual misconduct allegations against him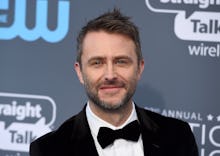 Chris Hardwick's nerd entertainment empire is crumbling, bit by bit.
Late Thursday, actress and internet personality Chloe Dykstra published an article on the blogging site Medium, alleging that an ex-boyfriend emotionally and sexually abused her over the course of their relationship. While they were dating, Dykstra wrote, they had a set of "rules" for the relationship that caused her emotional harm. These rules barred her from seeing friends at night — "My nights were expected to be reserved for him, as he had a busy schedule" — or from having pictures of her male friends in the apartment.
This unnamed ex-boyfriend also allegedly demanded she have sex when he wanted to, insinuating he would break up with her if she refused. These, among other abuses Dykstra alleges, caused her to start pulling out her hair and lose 15 pounds "within weeks."
Eventually, Dykstra said she left the relationship, and that he retaliated against her by using his influence in the entertainment industry to effectively blacklist her.
Dykstra never named the man explicitly, but the post was widely assumed to be about Chris Hardwick, a stand-up comedian who has hosted programs for Comedy Central, AMC and NBC. He also founded Nerdist Industries and is a highly visible figurehead in the nerd culture entertainment world in general. Dykstra's post lists several details that match up with the time Dykstra and Hardwick were publicly romantically linked, like her description of this man as being "nearly 20 years her senior," that he is sober, that she had an on-camera job at his company — likely in reference to her work as host of the cosplay web series Just Cos for Nerdist — and that while they were together, "he grew from a mildly successful podcaster to a powerhouse CEO of his own company."
In a statement to the Hollywood Reporter, Hardwick denied the allegations.
"Our three-year relationship was not perfect — we were ultimately not a good match and argued — even shouted at each other — but I loved her, and did my best to uplift and support her as a partner and companion in any way and at no time did I sexually assault her," a statement attributed to Hardwick said.
Despite Hardwick's denial of Dykstra's accounts, numerous organizations affiliated with Hardwick in one way or another are cutting ties.
Friday, soon after Dykstra's post began circulating, the Twitter account for Nerdist — a written and video-based pop culture site founded by Hardwick — disavowed him and removed all references to his name from its site. In a statement posted to Twitter, Nerdist said Hardwick hadn't been involved in the "operation" of Nerdist for two years. He did, however, still have ties to the company via a contract that expired in December. It's not clear exactly what the terms of his contract stipulated or what his involvement with Nerdist was.
A number of staff members currently working at Nerdist spoke out against Hardwick — but in support of current Nerdist staffers — saying they believed Dykstra's accounts.
Scott Weinberg, a film writer who has contributed to Nerdist, said he would no longer be writing there in light of Dykstra's allegations.
AMC, which was scheduled to air the season premiere of Talking With Chris Hardwick on Sunday, said in a statement that the series was suspended while it reviews the allegations against him. (Hardwick has had extensive ties with AMC over the years, where he has hosted talk show-style programs after its scripted shows, like The Walking Dead and Breaking Bad.)
"We have had a positive working relationship with Chris Hardwick for many years," AMC said, per CNN. "We take the troubling allegations that surfaced yesterday very seriously. While we assess the situation, Talking With Chris Hardwick will not air on AMC."
AMC also said that Hardwick "has decided to step aside from moderating planned AMC and BBC America panels at Comic-Con International in San Diego next month." (According to Deadline, Hardwick was slated to moderate a panel related to Doctor Who's first female doctor character, and was likely going to moderate a panel for The Walking Dead.)
The future of NBC's game show The Wall, which Hardwick hosts, is up in the air. In a statement provided to the Hollywood Reporter, NBC echoed AMC's line that it has had "a positive working relationship" with Hardwick.
"However, we take allegations of misconduct very seriously," NBC said, per the Hollywood Reporter. "Production on The Wall does not begin until September, and in the meantime we are continuing to assess the situation and will take appropriate action based on the outcome."
It's not clear yet what the future holds for the ID10T podcast (formerly called Nerdist), which Hardwick hosts. His cohosts, Jonah Ray and Matt Mira, haven't commented extensively regarding Dykstra's allegations, but have posted some vague tweets about it.
Friday, Mira quote-tweeted a post from Felicia Day — who created Geek & Sundry, which is owned by Nerdist's parent company Legendary – in which she said she was "shocked and sad" to read the allegations.
"This is as good as it can be said," Mira wrote.
Monday morning, Ray posted a string of GIFs on Twitter, many of which showed actor Keanu Reeves looking sad.
"Me [right now] (THREAD)," the initial tweet said.
Correction: June 18, 2018