Apple's next iPhone update will change how your location is sent to 911 during emergency calls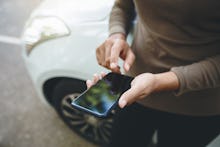 Apps like Uber and Snapchat often keep tabs on their user's location with ease, but services like 911 have a harder time detecting the same information. That's about to change for iPhone owners.
In iOS 12, scheduled for arrival in the fall, Apple will improve how first responders receive your location. Currently, Apple uses what it calls Hybridized Emergency Location to estimate a 911 caller's whereabouts with the help of GPS and nearby Wi-Fi access points. Though 80% of emergency calls come from mobile phones, according to Apple, landline-based infrastructure can make it difficult for 911 centers to quickly identify a caller's location.
To get around this, the next iPhone update will enlist the help of RapidSOS. The emergency communications startup shares the location data obtained during a 911 call with the emergency call center. The company securely shares the data via the internet to ensure call centers quickly have users' coordinates. While less than half of call centers currently utilize RapidSOS, according to the Wall Street Journal, the startup expects to be available nationwide by the end of 2018. The service is free for call centers to implement.
RapidSOS also offers products that assist in potential emergency situations at home and on the road, as well as tools that allow developers to integrate RapidSOS features into mobile apps.
"Communities rely on 911 centers in an emergency, and we believe they should have the best available technology at their disposal," Apple CEO Tim Cook said in a press release. "When every moment counts, these tools will help first responders reach our customers when they most need assistance."
Apple's competitors have similarly experimented with getting users' location data to 911 call centers. Google's Emergency Location Service outfits Android devices (with operating systems as old as 4.0) with similar capabilities.
Apple said user data won't be used for non-emergency reasons; further, only the responding call center will have access to user location during a call. RapidSOS support for iPhone will arrive alongside iOS 12 when the new software update drops this fall.