Here are the 10 best outfits from 'Pose' episode 3, from Angel's ice princess to Elektra's red fur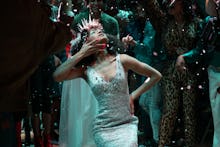 As a show devoted to depicting 1980s New York City as authentically as possible, the fashion on FX's Pose continues to never disappoint.
Thanks to costume designer extraordinaire Lou Eyrich, who's been a part of many Ryan Murphy TV projects, the style of each character remains genuine yet often gorgeous.
For the third episode this season, our favorite style moments came courtesy of Pray Tell; the outrageous moderator of all the balls; Blanca; Angel; and Elektra, of course, who continues to bring Diana Ross-inspired ensembles from head to toe.
Here's our top 10:
10. Elektra's subtle glamour for a doctor's appointment
9. Pray Tell giving you cabbie chic
8. Blanca's turquoise jumpsuit
7. Pray Tell's blue velvet robe
6. Angel's lace look for ... waiting at home
5. This wonderfully '80s-tastic mom look for Blanca
4. Blanca's glam take on Mrs. Claus
3. This black fur moment for Elektra
2. Angel's ice princess look for the ball
1. And finally, this amazing all-red, all-fur Elektra look
For the second week in a row, Elektra's style remains unparalleled.