As Trump doubles down on family separations, Republicans warn the policy may lead to electoral doom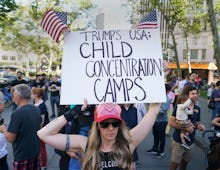 As the White House doubled down on Monday on its policy to separate families illegally crossing the border or who come to the United States seeking asylum, Republicans from across the party's ideological spectrum are warning that continuing the policy is a political nightmare waiting to happen for the GOP.
President Donald Trump, who continues to blame Democrats for a policy cooked up by his administration, doesn't appear to be backing down. On Monday, he insisted that Congress pass an immigration bill that also includes funding for his border wall and cuts to legal immigration — essentially confirming that children are being taken from their parents as a bargaining tool.
"The United States will not be a migrant camp, and it will not be a refugee holding facility," Trump said Monday during a speech before the National Space Council. "It won't be. You look at what's happening in Europe, you look at what's happening it other places, we can't allow that to happen to the United States, not on my watch. We want safety and we want security for our country. If the Democrats would sit down instead of obstructing, we could have something done very quickly, good for the children, good for the country, good for the world, it could take place quickly, we could have an immigration bill."
Meanwhile, the cycle of congressional inaction has begun. Senate Democrats, who are in the minority and therefore don't control what makes it to the floor for a vote, have proposed a bill that would just tackle the family separation issue. Every Senate Democrat is on board with the legislation, but they need Republican support in order to pass it.
"The entire Democratic caucus supports our bill to bar children from being taken from their parents at the border," Sen. Dianne Feinstein (D-Calif.), who is pushing the Keep Families Together Act, tweeted Monday. "I've heard countless Republicans say that they oppose children being taken from their parents. If that's true, they should support our bill NOW!"
Yet it's unclear whether Republican leadership would put a "clean" bill on the floor that blocks Trump from separating families, or would instead push for broader legislation. This would likely include Trump's polarizing proposals to cut down legal immigration and build his costly border wall, and therefore could tank any chance the bill has to pass.
While no Republicans have signed on to the Senate Democrats' bill, some aren't buying Trump's blame shifting, and are calling on Trump to stop the separations.
"The administration's decision to separate families is a new, discretionary choice," Sen. Ben Sasse (R-Neb.) wrote in a lengthy Facebook post Monday morning. "Anyone saying that their hands are tied or that the only conceivable way to fix the problem of catch-and-release is to rip families apart is flat wrong."
Sasse added that these children should not be used as bargaining chips.
"Neither the horrors of family separation nor the stupidity of catch-and-release should be about leverage for a broader debate," Sasse said in the post. "We should start by tackling the specific problem before us in the narrowest way possible."
Former Rep. David Jolly (R-Fla.) said that while Republicans like Sasse are starting to speak up on the growing crisis, it's unlikely that Republican leadership will put a clean bill on the floor that would have tough language unequivocally barring the Trump administration from separating families.
Instead, Jolly said he could see the Republican-controlled Congress coming up with language in a bill that clarifies that the law "does not require separation or that the law permits families to remain united when they're detained, but all that would be doing is punting to the president."
"You're not going to see a majority make a policy that's clearly adverse to the president," Jolly said. "They're not going to pass a bill saying '[Trump] shall not split them up.'"
Nevertheless, Republicans ranging from former first lady Laura Bush to disgraced ex-Fox News host Bill O'Reilly are warning how bad the optics of this policy are for Republicans — many of whom are already facing a challenging midterm environment.
"The government should know how bad this looks and how innocent children are actually suffering," O'Reilly tweeted. "That kind of scenario is unacceptable to most Americans as exemplified by former first lady Laura Bush's withering criticism. The Trump administration will not win on this one and it should reverse course today."
Democrats are saying they want the policy to end, and are saying that even if a solution is reached, voters will make Republicans pay for the controversial policy.
"This is an issue of morality; the most important piece of this is not political in nature," Josh Schwerin, communications director for the Democratic super PAC Priorities USA, said in an interview. "But that said, I do think it has an impact on the election on the midterms in two major ways.
"One, it is a motivating factor for Democrats who are seeing these horrible images and are fired up to do something about it. You're seeing people marching on the border ... and it's another example of a policy that Democrats will be motivated against. On the flip side, even most Republicans don't think this is a good policy, and if they are counting on people who are not huge fans of Donald Trump to hold their nose and go vote for their Republican member of Congress, this is an added reason not to do that."
Other Democrats added that this is another galvanizing issue for suburban female voters, who will be key to Democrats' electoral hopes in the House.
"It's one more reason for women — who didn't need any more reasons — to vote for Democrats in November," Mary Anne Marsh, a Democratic strategist, said in an interview. "And this in many ways might be the most cruel example of it that we're witnessing."