Cynthia Nixon and Andrew Cuomo now have another competitor to contend with — and no one is sure why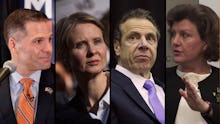 Yet another challenger has entered the heated race to try and unseat incumbent Democratic New York Gov. Andrew Cuomo — and nobody seems to know why.
On Monday, former Democratic Syracuse Mayor Stephanie Miner officially announced her intention to run for Governor of New York as an independent third party candidate. Her entry comes at a time when Cuomo is already facing a vicious primary fight against progressive actress and activist Cynthia Nixon. Miner announced her candidacy in an interview with the New York Times, which she used to attack the "corrupt political culture" in Albany.
Unlike Nixon, who is running on a populist platform that accuses Cuomo of being insufficiently progressive, no one can seem to figure out why Miner has entered the fray.
"I'm not quite sure what Stephanie Miner's game is and it seems like she's not at all sure either," said Jon Reinish, a New York Democratic political strategist.
In her interview with the Times, Miner critiqued Cuomo on many of the same issues that Nixon has made the center of her campaign, including fixing New York's broken subway system and cracking down on political corruption in Albany.
Yet Miner appears to be trying to take a different strategy than Nixon, by running under the banner of a relatively obscure reform party organization called the Serve America Movement or SAM, which bills itself as a national group of concerned Americans who are fed up with both major parties in Washington.
"We don't see ourselves as a centrist or a third party, we are a new party," Reed Galin, chief strategist for the Serve America Movement told Mic. "We are trying to take an objectives- and solutions-based approach."
Yet on its website, the group lists a number of anodyne centrist political positions as priorities, including reducing the national debt, promoting free trade and encouraging "entrepreneurship."
Above all, the organization appears to emphasize bridging political divides and focusing on what "unites" Americans as voters.
The messaging of the organization is at odds with the typical progressive critiques of Cuomo's tenure, which accuse the governor of being far too willing to work with Republican lawmakers in the progressive state's legislature, and his complicity in allowing conservative Democrats to conspire with New York Republicans to keep their own party out of power.
Reinish, who considers himself a skeptic of Nixon's candidacy, says he finds Miner's messaging strategy baffling.
"[Nixon], to her credit said, 'This is my vision for New York, this is why I'm running for governor,'" Reinish said. "It's almost as if Miner's' message is 'I'm running for governor because I can't stand Andrew Cuomo and neither should you.'"
Despite her inchoate pitch to voters, Miner's candidacy could fundamentally shift the dynamics of the race for governor. Currently Cuomo is polling well ahead of all of his potential rivals. A recent Sienna College poll found that Nixon's campaign is polling 35 percentage points behind Cuomo and has actually lost some ground over the past month.
Similarly, Cuomo is polling well ahead of his likely Republican challenger, Marc Molinaro, by 19 percentage points.
Miner's entry into the race could change those dynamics. Though Nixon is running in the Democratic primary, she has already received the endorsement of New York's Working Families Party, which could guarantee her a spot in the November election irrespective of whether she wins the Democratic race.
Nixon has said that, should she lose the Democratic primary, she and the Working Families Party would decide closer to the election whether she will choose to appear on the WFP ballot line — leaving the door open for her to exit the race to avoid splitting the Democratic vote.
But a fourth candidate running on a non-partisan platform could level the November playing field by splitting the vote along a broader array of ideological lines. That could provide an opportunity for both Nixon and Molinaro to come out ahead.
"Whether you're a progressive like Cynthia Nixon, a moderate like Stephanie Miner or even a Republican like Marc Molinaro, it's clear that New Yorkers are tired of seeing Governor Cuomo put the demands of big donors ahead of the needs of ordinary citizens," New York Working Families Party Director Bill Lipton told Mic.
"We are laser-focused on helping Cynthia Nixon win the Democratic primary, and we have confidence that she can capture the imagination and support of every voter who believes that New Yorkers deserve better, and that we must stop leaving working families and the most vulnerable people behind."
The potential consequences of Miner's candidacy will ultimately rest on whether she can manage to take votes away from Cuomo, and not simply split the anti-Cuomo vote with Nixon and Molinaro.
That will be a challenge for a candidate who, in a poll taken in August 2017, was losing to the governor in the town where she once held the position of mayor, and who only has a little over $200,000 in leftover campaign cash from a previous race, according to the New York Times.
One thing is for sure, however: Miner's candidacy has the New York political world confused and anticipating her next move.