Zendaya, Kim K., Chadwick, Tessa and more of the best dressed from the 2018 MTV Movie and TV Awards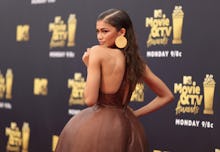 The MTV Movie Awards red carpet used to be, in a word, risky. It's where movie stars would come in cocktail dresses and sneakers (we're looking at you, Kristen Stewart), singers would show up in straight-up lingerie (hey, Rihanna) and people like P!nk would bring their dogs (no, really).
But now, with the show rebranded as the MTV Movie and TV Awards and a bevy of talented stylists who aim to never have their clients on a worst-dressed list, the style on the carpet has turned significantly more sophisticated.
That's sad for those of us who thrill over stars taking genuine risks on a red carpet, but a plus for the others who get the most satisfaction from seeing their favs look wonderful.
On Saturday night's red carpet, the stars of the night definitely impressed for the show that will air Monday night on MTV, including celebs like Zendaya, Yara Shahidi, Tessa Thompson and Chadwick Boseman.
Kim Kardashian West in Versace
Michael B. Jordan in Dsquared2
Chadwick Boseman in Off-White
Lili Reinhart in Izeta
Zazie Beetz in Chloé
Lena Waithe in Alba and a custom Shirley Chisholm hoodie
Madelaine Petsch in Prada