A Dunkin' Donuts in Baltimore asked customers to report employees for not speaking English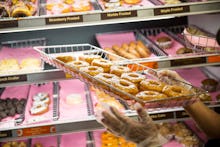 A sign spotted in a Dunkin' Donuts in Baltimore urged customers to call the store's general manager and report employees for speaking any language other than English, even offering a reward for people who actually did it.
The sign read: "If you hear any of our staff SHOUTING in a language other than ENGLISH, please call 443-415-7775 immediately with the name of the employee to receive a coupon for FREE coffee and a pastry."
Customers first noticed the sign Monday morning, local outlet WBAL-TV 11 reported. WBAL producer Gillian Morley, who happened to be one of those customers, tweeted a photo of the sign on the counter.
In a statement to Mic, a spokesperson for Dunkin' Donuts confirmed the sign had been placed there by the Baltimore store's general manager.
"Dunkin' Donuts and our franchisees share the goal of creating a welcoming and hospitable environment for all guests," the statement said. "The franchise owner has informed us that the sign was posted by their general manager based on her own personal judgment to ensure those standards are being met. While her intent was to address a customer service and satisfaction issue, the franchisee determined her approach was inappropriate and confirmed the sign has been removed."
In response to a follow-up question about whether the general manager who posted the sign would face any consequences, a spokesperson added, "All Dunkin' Donuts restaurants are independently owned and operated, and the franchise owner is solely responsible for their own employment matters. This is a private matter between the franchisee and his general manager."
No one answered a call to the number posted on the sign, and the voicemail associated with the number was full.
According to the organization Legal Aid at Work, workplace discrimination based on language — including "English-only" policies — is often considered discrimination based on national origin, which is illegal according to federal law.
However, the possibility of legal protection against workplace discrimination doesn't mean everyone can feel safe at work. A video of New York City lawyer Aaron Schlossberg yelling about deli employees who spoke Spanish went viral in May. In the video, Schlossberg threatened to call U.S. Immigration and Customs Enforcement and "have each one of them kicked out of my country." Schlossberg later released a public apology and said he was "not racist."
June 18, 2018, 3:38 p.m.: This story has been updated.