This week in food and travel: A first look at the new Toy Story Land at Disney World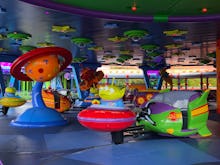 On Saturday, a new land will open at Walt Disney World in Orlando, Florida. Toy Story Land is based on the popular Pixar franchise and features two new rides and one refreshed fan favorite, Toy Story Mania. Ahead of the opening, we previewed the rides, food and design details — all of which aim to put visitors in the mindset of a toy.
The newest land at Disney World opens Saturday and uses design magic to make visitors feel toy-sized. Read more here.
We asked a group of experts to take a closer look at a few of these celebrity-endorsed products to see which, if any, are actually worth spending money on. Read more here.
LGBTQ travel is rapidly changing, but these industry insiders envision what travel will look like in 2030, including inclusive beach getaways and international escapes. Read more here.
The comedian and host of Netflix's Nailed It! previewed the upcoming season — which debuts June 29 — and some of the most hilarious mistakes on the show. Read more here.