Mic Daily: Contamination at Camp Lejeune, Trump doubles down on family separations and more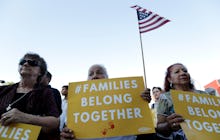 Welcome to Mic Daily: Mic's short, smart email newsletter that cuts through the noise and lands in your inbox every weekday. We carefully curate each edition to send you a cross section of our most impactful, vital, touching stories of the day.
As Trump doubles down on family separations, Republicans warn the policy may lead to electoral doom
As the White House doubled down Monday on its policy to separate families illegally crossing the border or who come to the United States seeking asylum, Republicans from across the party's ideological spectrum are warning that continuing the policy is a political nightmare waiting to happen for the GOP.
Trump administration sits on study showing disturbing contamination levels on U.S. military bases
Peggy Price was stationed at Camp Lejeune in Jacksonville, North Carolina, in the 1980s, where she worked as a cryptologic signals intelligence analyst and began raising a family. When her oldest child — who was born on base at Camp Lejeune in 1984 — was diagnosed with an adult form of cancer at the age of 13, Price started to wonder what could have caused it.
Later, Price herself and her three other children also experienced severe health issues, including cancer and asthma.
"Something major and health-related with all four kids? What the hell?" Price told Mic. "These are odds that just don't exist."
LGBTQ identity is shaped by language. So what words will describe "queer" in the future?
With queer language feeling like it's changing and spreading faster than ever, jumping into the mainstream through viral memes and reality TV, what will queer language look like by the year 2030? When today's teens are LGBTQ adults, will their language be totally unfamiliar to their LGBTQ forbearers?
How Chris Hardwick's entertainment empire is reacting to sexual misconduct allegations against him
Late Thursday, actress and internet personality Chloe Dykstra published an article on the blogging site Medium, alleging that an ex-boyfriend emotionally and sexually abused her over the course of their relationship.
Dykstra never named the man explicitly, but the post was widely assumed to be about Chris Hardwick, a highly visible figurehead in the nerd culture entertainment world who has hosted programs for Comedy Central, AMC and NBC.
Now, the future of his entertainment empire is in question.
Supreme Court avoids ruling on partisan gerrymandering in both Wisconsin and Maryland cases
The U.S. Supreme Court avoided issuing a sweeping ruling on the issue of partisan gerrymandering Monday, delivering narrow opinions in two cases that had the potential to reshape election maps nationwide.