5 cute moments you may have missed from the MTV Movie and TV Awards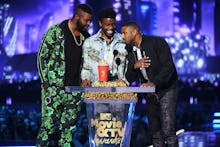 The 2018 MTV Movie And TV Awards were Monday night — it's OK if you didn't watch, it was a school night — but the show did deliver a handful of memorable moments.
Host Tiffany Haddish, still in the middle of what seems to be an unstoppable year, had some hilarious bits. And winners and presenters like Chadwick Boseman, Lena Waithe, Keiynan Lonsdale and Michael B. Jordan made big statements and cracked jokes in their various appearances. Here are some of the can't-miss moments from the awards ceremony.
Chadwick Boseman shared his best hero award with an IRL hero
Black Panther star Chadwick Boseman received the award for best hero for his role in the Marvel smash. After thanking the fans, who "made this moment special," Boseman turned the spotlight on another hero. "It's even greater to acknowledge the heroes that we have in real life," Boseman said. Then he invited James Shaw Jr., the man who saved lives by stopping a shooter at a Tennessee Waffle House in April, to come to the stage. "This is gonna live at your house," Boseman told Shaw, handing him his hero award.
Love, Simon won the best kiss award
The stars of the teen romance Love Simon, which was heralded as the first major studio release centering on a gay teen, won the award for best kiss. This is the second year in a row that that particular award has gone to a same-sex kiss onscreen — a kiss from Moonlight won the award in 2017.
Love, Simon star Keiynan Lonsdale, who plays Simon's love interest, was there to accept the award, wearing a flowing white skirt. "You can live your dreams and kiss the one that you love, no matter what gender they are. You can live your dreams and believe in magic," Lonsdale said when he took the stage to accept his award. "You can be yourself. Thank you so much."
Michael B. Jordan got in a joke about Roseanne Barr
Black Panther star Michael B. Jordan, who played Killmonger in the hit film, got in a dig at Roseanne Barr when he came up to accept his award for best villain. Barr, perhaps infamously, got her namesake show Roseanne canceled by ABC because of her racist, offensive tweets, specifically one where she compared former Obama aide Valerie Jarrett to an ape. "I'm shocked I won the award for best villain," Jordan said when he took the stage. "I thought Roseanne had that in the bag."
Lena Waithe shouted out LGBTQ trailblazers
Writer, actor, creator and advocate Lena Waithe was honored with a special trailblazer award at the ceremony, and she took the opportunity to pay tribute to LGBTQ trailblazers of the past (it is Pride Month, after all). Wearing a shirt with an image of Shirley Chisholm, the first black woman elected to the U.S. Congress, Waithe spoke about some of the queer people featured in the now-classic 1990 documentary Paris is Burning, a movie about the gay ball scene in New York City.
"Their legacies will never die because they live on in all of us," Waithe said. "Every time someone says shade or talks about reading or just decides to serve face for no reason at all, please look up to the sky and give thanks because we owe them a huge debt of gratitude. They strutted through a brick wall so we wouldn't have to."
Tiffany Haddish wore a Meghan Markle-inspired wedding dress.
One of host Tiffany Haddish's many outfit changes was into a near-perfect replica of the wedding dress that Meghan Markle wore to marry Prince Harry in May. "Meghan isn't the only one who can look good in a dress," Haddish said when she stepped out on stage in the gown. "She from my hood, I had to represent." Haddish got in a bunch of other great moments too — including a parody performance to the tune of Cardi B.'s "Bodak Yellow." Haddish's version had lines like, "Let's go. MTV you can't mess with me if you wanted to. These are rented. These are not my size, my toes turning blue."