Today in Trump's America: Polls show family separations could imperil House Republicans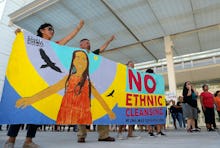 Welcome to Mic's daily read on Donald Trump's America. Want to receive this as a daily email in your inbox? Subscribe here.
Good morning from Emily Singer at Mic.
Here's what's happening in Trump's America:
• It's a busy day for Trump, who gets his day started after noon, when he'll give remarks to the National Federation of Independent Business.
About last night: Opposition grows to Trump's family separation policy
Outrage over the Trump administration's policy to separate undocumented immigrant families at the border grew to a fever pitch Monday night after ProPublica released gut-wrenching audio of young undocumented girls hysterically crying after they had been separated from their parents at the border.
The audio — in which some of the girls appear to be crying so hard they can't catch their breath — led to even more outcry over the policy, which the president of the American Academy of Pediatrics described to CNN as "government-sanctioned child abuse."
Sen. Lisa Murkowski (R-Alaska) called on the Trump administration to end its "cruel" policy, which she said is "not consistent with our values."
"To blame previous administrations for a wrong committed today is not acceptable," Murkowski said in a statement. "The attorney general and secretary of Homeland Security should make the call today. If the administration does not fix this and fast, we in Congress must."
Sen. John McCain (R-Ariz.) also condemned the White House for the policy.
"The administration's current family separation policy is an affront to the decency of the American people, and contrary to principles and values upon which our nation was founded," McCain tweeted Monday. "The administration has the power to rescind this policy. It should do so now."
The Trump administration, however, seems to have no plans to end the policy.
Homeland Security Secretary Kirstjen Nielsen defended the policy twice Monday, including in a contentious briefing at the White House in which she said that separating kids from their parents was not child abuse.
"We now care for them, we have high standards, we give them meals, we give them education, we give them medical care, there's videos, there's TVs, I've visited the detention centers myself," Nielsen said during a guest appearance at the White House daily press briefing.
Stephen Miller — the anti-immigrant White House aide who also helped draw up Trump's travel ban — told the New York Times that the issue is a political winner for the White House.
"You have one party that's in favor of open borders, and you have one party that wants to secure the border," Miller told the New York Times. "And all day long the American people are going to side with the party that wants to secure the border. And not by a little bit. Not 55-45. 60-40. 70-30. 80-20. I'm talking 90-10 on that."
Polling provided to Mic, however, shows the exact opposite. Equity Forward, a group that serves as a watchdog for anti-reproductive health organizations, had the Democratic pollster Global Strategy Group conduct polling on support for separating parents and children at the border, and the data shows the policy could hurt vulnerable Republican lawmakers.
They include Rep. Carlos Curbelo, a Florida Republican running for re-election in a heavily Hispanic district that voted for Hillary Clinton by a 16-point margin in 2016. The Global Strategy Group poll found that 64 percent of voters in Curbelo's district oppose the separation policy, with 56 percent strongly opposed to it.
In vulnerable New Jersey Republican Leonard Lance's district, 61 percent of voters oppose the policy, with 50 percent strongly opposed to it, according to another Global Strategy Group survey. And in Rep. John Culberson's suburban Houston-based district, 60 percent of voters oppose the policy, with 52 percent strongly opposed to it, another Global Strategy Group poll found.
Today in Trump's America: Trump meets with House Republicans on immigration
Trump will face House Republican lawmakers Tuesday evening — many of whom are angry with Trump's policy to separate families at the border and want him to end the practice.
This meeting was originally set to come up with an immigration reform bill that would appease a small group of moderate House Republicans leading a charge to force a series of votes on immigration legislation that would protect recipients of the Deferred Action for Childhood Arrivals program. Now the meeting will be even more contentious as Trump administration's policy to separate families who cross the border illegally has blown up into a national news story and a major political problem for the GOP.
A handful of Republicans — including Sen. Ted Cruz of Texas and Rep. Mark Meadows of North Carolina — are working on legislation that would stop the family separations. Cruz's emergency legislation would keep the Trump administration's zero tolerance policy in place, but mandate that immigrant families be kept together and face an expedited process for their asylum claims.
"The answer is not what congressional Democrats are proposing: simply releasing illegal aliens and returning to the failed policy of 'catch and release,'" Cruz said in a statement. "Rather, we should fix the backlog in immigration cases, remove the legal barriers to swift processing and resolve asylum cases on an expedited basis."
"While these cases are pending, families should stay together," Cruz added. "Children belong with their mothers and fathers."
The fact that Cruz, a conservative lawmaker who has railed against amnesty, is working on a solution to the family separation policy is yet another sign of how politically perilous the practice is. Cruz is up for re-election in 2018 against Democratic Rep. Beto O'Rourke.
And the rest…
Did he actually say that?: Attorney General Jeff Sessions appeared on Laura Ingraham's show on Fox News Monday night, where he knocked down comparisons of immigrant detention centers to Nazi concentration camps. "Well it's a real exaggeration. Of course in Nazi Germany, they were keeping the Jews from leaving the country," Sessions told Ingraham. That's one way to describe mass exterminations, Jeff…
Trade war: Trump's trade war is still raging after Trump announced Monday an additional $200 billion in retaliatory tariffs against China: "Today, I directed the United States Trade Representative to identify $200 billion worth of Chinese goods for additional tariffs at a rate of 10 percent. After the legal process is complete, these tariffs will go into effect if China refuses to change its practices, and also if it insists on going forward with the new tariffs that it has recently announced." The stock market is responding to Trump's escalating trade war with projected lower opening numbers.
Senate rebukes Trump: The Senate on Monday passed the National Defense Authorization Act, which blocks Trump from keeping the Chinese technology company ZTE in business, according to Politico. Trump announced a deal to rescue the failing tech company. But senators said ZTE poses a national security threat to the U.S. and included a provision in the NDAA to reimpose the ban on the company doing business in America.