Tiffany Haddish recycles her Alexander McQueen dress for the 4th time at the MTV Movie and TV Awards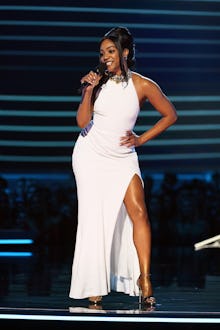 Tiffany Haddish made a promise while standing on the Saturday Night Live stage back in November in a $4,000, white slinky halter-neck Alexander McQueen dress: You would see her in this dress again.
She had worn it once before, at a Girls Trip premiere, and she wasn't about to stop. "My whole team, they told me, 'Tiffany, you cannot wear that dress on SNL,'" she said. "'You already wore it. It's taboo to wear it twice.' And I said, 'I don't give a dang about no taboo. I spent a lot of money on this dress. This dress costs way more than my mortgage. This is a Alexander McQueen, OK? It's a $4,000 dress. Imma wear this dress multiple times.'"
In March, she made good on that promise at the Oscars.
And over the weekend, she made good on that promise again, wearing the McQueen dress onstage while she played host to the 2018 MTV Movie and TV Awards, which aired on Monday night. "Welcome back to my Alexander McQueen dress," she joked.
She looked fabulous as she had the first three times she wore it publicly.
This was not the only iconic dress Haddish wore while playing host. She rocked a replica of Meghan Markle's wedding gown, got classy in a remake of Audrey Hepburn's black dress from Breakfast at Tiffany's and even wore a dress similar to the white Christian Siriano dress that Cardi B debuted her baby bump in on SNL.
We fully endorse her wearing it again.