They started raising money to reunite immigrant families. It's now Facebook's biggest fundraiser.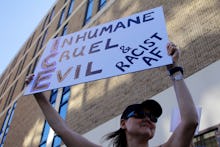 The latest border-control policy has resulted in numerous immigrant parents being separated from their children at the border. A new crowdfunding effort that launched on Saturday, attempting to get parents out of detention and back to their children, asked donors to help them hit their goal of $1,500. The group has raised over $10 million and counting.
The crowdfunding campaign was started for the Refugee and Immigrant Center for Education and Legal Services (Raices for short). Raices is a charity based in Texas that offers legal services and education to refugees. The group set its initial goal at $1,500 due to bond prices, which tend to be $5,000 to $10,000, according to the group, but are always a minimum of $1,500.
Since Saturday, Raices has met its initial $1,500 goal and raised the new goal to $15 million, which it's on track to achieve. According to USA Today, Raices's campaign is the largest single fundraiser ever on the social networking site. Facebook founder Mark Zuckerberg and Facebook's chief operating officer Sheryl Sandberg have donated sizable amounts to the campaign as well. Neither disclosed exactly how much they donated. According to the campaign's page on Saturday, "several private donors" have matched donations up to $250,000.
In April, the Department of Justice announced a zero-tolerance policy for anyone trying to enter the country illegally. In less than two months, over 1,900 adults have been separated from their children.
The more stringent border-crossing policy has been criticized by many Americans. However, Trump blames the illegal immigration rates on Democrats, saying they were "weak and ineffective" when it came to border security. Some prominent Republicans like Anthony Scaramucci, South Carolina Sen. Lindsey Graham and even former first lady Laura Bush have come out against Trump on his zero-tolerance, family-separating policy. According to Scaramucci, the former White House communications director, separating children from their families is not "the Christian way" or "the American way," the New York Times reported.
One mother reported that her daughter was taken away from her while she was breastfeeding, a story that border patrol officials have denied. In another instance, Marco Antonio Muñoz from Honduras died by suicide in a Texas jail cell after being separated from his wife and child. Some children wait in cages for their parents to return, if the parents do at all.
"The United States will not be a migrant camp, and it will not be a refugee holding facility," Trump said on Monday during a meeting with the National Space Council. "It won't be."
Regulations like the zero-tolerance policy Trump has put in place make the job of Raices and other similar groups tougher. But with over $10 million in donations, the Texas organization is in a good position to begin offering proper legal representation for the children involved.
June 20, 2018, 11:30 a.m. ET: This story has been updated