UN human rights chief joins growing chorus against Trump's family separation policy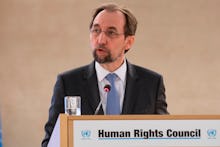 The top human rights official for the United Nation has joined a growing number of prominent individuals harshly condemning the Trump administration's policy of separating migrant families arriving at the United States border.
Speaking from Geneva on Monday, Zeid Ra'ad Hussein, the United Nations high commissioner for human rights, called the practice of deliberately separating immigrant children from their parents at the border "unconscionable." He cited the president of the American Association of Pediatrics, who has previously said that the policy amounted to "government-sanctioned child abuse."
"The thought that any state would seek to deter parents by inflicting such abuse on children is unconscionable," Hussein said.
Hussein pressed on during his Monday remarks, cautioning against the dangers of "nationalist agendas" and "self-serving, callous leaders."
"The more pronounced their sense of self-importance, the more they glory in nationalism, the more unvarnished is the assault on the overall common good — on universal rights, on universal law and universal institutions, such as this one," he said.
According to the Department of Homeland Security, the U.S. separated roughly 2,000 children from their parents at the border between April 19 and May 31. This is a result of the administration's new "zero-tolerance" immigration policy, which was first announced in May. Although some White House officials — including DHS Secretary Kirstjen Nielsen and President Donald Trump himself — have flatly denied that the policy is being enforced as a "deterrent" for would-be migrants, others, including Attorney General Jeff Sessions and White House senior policy advisor Stephen Miller, have contradicted those denials.
Hussein is just the latest prominent voice to speak out against the family separation policy. On Sunday, former first lady Laura Bush penned an op-ed for the Washington Post decrying the practice. "I live in a border state," she wrote. "I appreciate the need to enforce and protect our international boundaries, but this zero-tolerance policy is cruel. It is immoral. And it breaks my heart."
Also among the dissenters is Franklin Graham, an influential evangelist and vocal Trump supporter who publicly condemned the policy on June 12.
"It's disgraceful, and it's terrible to see families ripped apart and I don't support that one bit," Graham told the Christian Broadcasting Network. 
In recent days, some Congressional Republicans have also expressed their distaste for the family-separation policy. Arizona Sen. John McCain, Nebraska Sen. Ben Sasse, Maine Sen. Susan Collins and Arizona Sen. Jeff Flake are among those in the GOP condemning the Trump administration over the policy.