This is the future of LGBTQ travel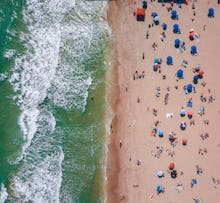 Editor's note: What will the future hold for LGBTQ rights and representation? With this year's Beyond Pride series, Mic looks forward to see how the radical changes in recent years will continue to transform our culture in the worlds of politics, business, entertainment and more. You can receive all these stories in your inbox by signing up here.
Pride, today, is a battle cry that takes center stage for the entire month of June. Last summer, we looked at the origin stories of destinations in the U.S. like Provincetown, Massachusetts; and Key West Florida; which continue the queer theme for the other 11 months of the year. This time we're interested in what the future holds — what does a gay destination look like in, say, 2030?
With television shows, books, movies and social media normalizing the LGBTQ experience for the general public, do LGBTQ travelers still need to — or even want to — seek out those year-round places where they can geographically cloister themselves from mainstream society?
We asked a panel of LGBTQ travel experts to weigh in over email on the ascent of newly progressive destinations, the democratization of travel as destinations become more accessible and affordable to reach, and the effect that the tools of the digital era — like Instagram — have had on tourism. And, perhaps most importantly we asked, do we even need "LGBTQ travel experts" in the coming future? Or are we headed toward a certain convergence where queer travel and mainstream travel are two lines that, in the distance, eventually come to a single point?
The rise of the American city
Over the last 40 years, LGBTQ individuals largely left city centers — heading to enclaves like Fire Island, New York, and Palm Springs, California; or cloistered spaces like Disneyworld or cruises — in order to find a peaceful, welcoming getaway. Now, that's changing.
Today, some of the most welcoming destinations are the cities themselves. What accounts for the complete reversal of the tides? "Big cities are welcoming to us because big cities are where so many of us live: New York City, Los Angeles, San Francisco, Miami, etc.," Matthew Breen, editorial director of Logo, said.
John Tanzella, the President and CEO of the International Gay & Lesbian Travel Association posits that "the current trend in LGBTQ travel is toward inclusivity rather than all-gay enclaves." Anita Dolce Vita, the editor-in-chief of queer lifestyle site dapperQ, cites Jacob Riis Beach, within the borders of New York City, as one of the hottest, most body-positive seaside destinations to go, based on her own experience. "Riis Beach has built a reputation as a place where all are welcome, perhaps because it is more financially accessible then other LGBTQ beach destinations like Fire Island," Dolce Vita said.
Aside from major American cities switching from an "escape-from" to an "escape-to" destination for seasoned LGBTQ travelers, the general softening of attitudes throughout the country has also created opportunities for those with less means to travel as well. "As a broke 20-something, my friends and I took road trips, went camping, stayed in motels — having money to visit to further-flung gay-popular destinations came much later," Breen said. "The nice thing about the opening up of more destinations is that now you don't have to go somewhere expensive to feel welcome." As editor-in-chief of the Advocate, Breen commissioned a story on the "gayest small town in America." "Eureka Springs, Arkansas!" he said. "Who knew?"
An interconnected global LGBTQ community
"On the global stage, we're also seeing a lot of American travelers visiting gay-friendly international cities," Rick Stiffler, a vice president at Preferred Hotels & Resorts, said. Our panelists flagged Tel Aviv, Cape Town and Sydney as top destinations. It's not, however, just the affluent segment of the LGBTQ population that is taking travel abroad.
"Low-cost airlines and marketplaces like Airbnb have drastically changed the travel profile on the whole," Anders Lindström, the director of communications for Norwegian Airlines, said. He sees new subsets of both the mainstream and LGBTQ markets seizing the opportunity to cross the pond for $300 round trip. According to Lindström, hallowed landscapes in Europe that have long been escapists' favorites, like Sitges and Gran Canaria in Spain or Mykonos, Greece, are now seeing just as many American travelers as the old-school haunts like P-Town and Key West back home.
LGBTQ travelers are setting mainstream trends
Remember that episode of Sex and the City when Smith Jerrod is feeling shy about having posed nude in an Absolut Vodka ad? Samantha cheers him up by saying "first come the gays, then come the girls." It's a sweeping generalization — and very much a Samantha-ism — but perhaps there's a grain of truth tucked within.
"Compare the feeds of your gay and straight friends. If you want to know what the hot destinations will be in 18 months, check your gay friends' Instagram," Ed Salvato, the founder of Man About World, said. "Lately, I see peers going to Slovenia, Peru and Malta — would I say they're gay hotspots? No, of course not, but soon the mainstream will follow. We've seen this with Croatia, Iceland and Turkey." Mark Steward, an advisor for Jet Set Tourism, a travel agency that's part of the Virtuoso network, agreed. "Gay people are definitely determining the future hot destinations for mainstream travelers," he said.
But LGBTQ travelers with the financial agency to spin newly emerging places into trending destinations worldwide only represent a fraction of the community, and that's where the problem with thinking about LGBTQ tourism lies.
"Destinations focusing on targeting LGBTQ travelers have primarily focused on cis, white gay men — DINKs: Double Income No Kids — rendering the rest of the rainbow invisible by creating a skewed perception of what the LGBTQ traveler really is," Dolce Vita said. "More LGBTQ people are creating trips based on their passions; we're as diverse as our heterosexual counterparts and our holiday desires are too."
And that's ultimately where the LGBTQ segment and their straight counterparts collide — both are equally diverse under their umbrellas, the only thing that separates them is gender and sexual identity.
When does LGBTQ travel meet mainstream tourism?
Will there even be such thing as LGBTQ travel in 2030 when so many of the market's trends now seem similar to mainstream wants? Most of the panelists agreed that some kind of queer-focused travel initiatives will remain — "there will always be destinations that attract a lot of gay men or lesbians who want to be surrounded by similar people; it's much the same with mainstream travelers," said Stiffler.
"And let's not forget that homosexuality is still criminalized in more than 70 countries," Tanzella said, pointing out that the world can't be totally inclusive when there are still countries that force LGBTQ travelers to hide parts of their identity.
But overall, our experts forecasted an inevitable collision with mainstream tourism in the approaching future, especially as destinations that brand themselves as LGBTQ-friendly delve deeper into understanding their new target demographic: those born in the 1990s and later.
"A recent J Walter Thompson survey asked Gen Z respondents if they were 100% straight, and only 45% answered affirmatively," Salvato said. Statistically, this means that the majority — the "mainstream" sampling — of survey takers self-identified as queer, turning what may have previously been thought of as a niche market into the lion's share.
"Travelers are discovering their queerness at a younger age now, and they're the same demographic that wants to spend their earnings on experiences — it's greatly diversifying the market," Lindström said. "Young LGBTQs are more adventurous too — especially worldwide — and they don't necessarily need sanctioned LGBTQ-friendly spaces. There are so many apps these days. People don't need a physical space like a gay bar to connect with like-minded people in a destination."
Both Lindström and LoAnn Halden, the vice president of communications for the International Gay & Lesbian Travel Association, point to Fort Lauderdale, Florida, as the best example of intersectional tourism that is perhaps inherently inclusive — as opposed to solely focused on capturing tourism dollars — that it could best be described as "post-gay."
In fact, Fort Lauderdale's tourism bureau has its own LGBTQ division, helmed by Richard Gray. "In 10 years time, LGBTQ vacationers will be almost fully integrated with mainstream traveler," Gray said. "I'm not saying that it will be global, as there are many countries that have a long way to go, but in Fort Lauderdale, for example, we've already integrated LGBTQ travel into our mainstream messaging a few years ago." And if that means Gray's job changes as a result, perhaps that's worth it. "Diversity is still key and seen as a strength from a strategic standpoint," he said.
Highlighting the diversity of the LGBTQ communities is key to unlocking the next step of queer travel. "As a population, particularly for gay men, we have a lot of work to do to be more open and welcoming to people of all genders, shapes, types and incomes," Breen said.
He added: "The armchair psychologist in me says that so much of our obsession with appearances — and FOMO for that matter — comes from feeling the need to prove to a hostile world that we're happy, successful and 'making it'." Travel could, and should, be an escape from these everyday pressures. And of course, one of the best ways to not only understand diversity, but to appreciate it, is to hit the road.