Creole cream cheese is a New Orleans family staple — and now it's having a comeback in restaurants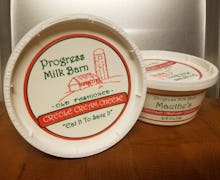 New Orleans resident Liz Williams can recall her earliest memory of Creole cream cheese: her grandmother would bring it in from the milkman while Williams foraged in the backyard for fresh figs and berries to sprinkle on top.
Williams, who is now the president of the National Food and Beverage Foundation, says that no one knows exactly who created this New Orleans staple. But this regional type of tart farmer cheese has been a fixture in many Big Easy homes since the 1800s. During the popularization of yogurt in the '40s, Creole cream cheese — which was often eaten with sugar and fruit — disappeared from the breakfast table. Only in the past decade has this long-ago staple made a resurgence in restaurants.
"People stopped buying Creole cream cheese when yogurt became popular, so dairy farmers stopped manufacturing it," Williams said. "But in the '80s New Orleans chef Poppy Tooker started teaching people how to make it in all her cooking classes so that it wouldn't be forgotten."
Rumored to have been a happy accident created by people of French ancestry, Creole cream cheese was supposedly created after an attempt at making cheese. The hot, humid New Orleans climate did not allow a solid curd to form and instead, created a fresh yogurt-like cheese with a tangy flavor. Today, it's traditionally made by heating milk and adding renin to form the curd — then the curds sit out so that they are inoculated by the yeast and bacteria in the air. This specialty is local to southern Louisiana, and hard to find elsewhere in the country.
Creole cream cheese can be used in a variety of ways. "I love eating it just by itself," said Linda Green, a New Orleans culinary legend who is known for her yaka mein, or Creole beef noodle soup. "I use it in my jerk chicken mac and cheese, mashed potatoes and different sauces."
Green's first experience with the dish was eating it with her grandmother. "I was fortunate enough to always be in the kitchen with my grandmother and my mom," she said. "They all cooked with Creole cream cheese. Especially in mac and cheese, because it gave it a different flavor blended with the other cheeses. It brought it to another level."
Creole cream cheese was also commonly used in ice cream. Most New Orleanians remember getting Creole cream cheese ice cream from the Katz and Besthoff Drug Store, affectionately known as K&B. "The Creole cream cheese gave it a slight tang," Williams said. "Everybody loved the ice cream, so they manufactured [it] in gallons." The store has long since shuttered, but the popularity of incorporating Creole cream cheese into ice cream hasn't disappeared.
A new ice cream shop called Hoodoo Ice Cream is set to open this month in Covington, just a 45-minute drive over Lake Pontchartrain on Louisiana's Northshore. Its owners, Billy Sussky and George Schenck, are one of the few people in the country using fresh Creole cream cheese as a base for ice cream. They get it from Mauthe's Dairy, a business Sussky credits with helping to resurrect Creole cream cheese. "Some people use buttermilk cream and a little lemon to give it that distinct tang," Sussky said. "I feel like we're doing something unique by making our own Creole cream cheese [ice cream] base."
Sussky started making the ice cream about a year ago with his daughter. They've since been selling it every weekend at the Covington Farmers Market. Sussky was inspired to use the ingredient by his grandfather, who recently passed away. "My grandfather is from New Orleans, and he introduced me to Creole cream cheese because it's such an old New Orleans dish," Sussky said. "All the way until the end of his life, he was a Creole cream cheese fan."
Despite its popularity in the early 1900s, its disappearance in the '40s means many young people don't know about the dish. Kenneth Temple, a New Orleans native and private chef, said some of his young employees have never tried it before.
"The first time I tried it was in culinary school at Nicholls State," Temple said. "I made mashed potatoes by adding Creole cream cheese instead of regular cream, and it was a hit."
Temple has plans to experiment more with this ingredient. "I think the next thing I'm going to work on is a cheesecake," Temple said. "You can substitute Creole cream cheese for anything that has a soft cheese. Maybe I'll make a quesadilla."
Pastry chefs in some of the city's best restaurants have also been using Creole cream cheese in their recipes lately. Chef Blake Abene from Restaurant R'evolution in the French Quarter started experimenting with it in a bread pudding recipe. "After a few misfires, we got a winner," Abene said. "Our Creole cream cheese crème brûlée maintains some of the texture inherent in the Creole cream cheese without being too sweet."
James Beard Award-nominated pastry chef Kelly Fields had an epiphany the first time she tried Creole cream cheese. "I was under the opinion that I did not actually like cheesecake at this point in my life, but the first bite of a Creole cream cheese cheesecake literally changed my life and how I approach how I 'think I feel' about certain foods," Fields said. "It also informed the way that I create desserts: allowing the ingredients to speak for themselves and taste the way they're intended, rather than over-manipulating and over-sweetening."
At her popular New Orleans restaurant, Willa Jean, Fields substitutes Creole cream cheese in just about every recipe that calls for ricotta, sour cream, mascarpone or creme fraiche.
There are several theories as to why this old New Orleans staple is making its way back into homes and restaurants; many chefs and food historians theorize that that after Hurricane Katrina, the locals wanted to hold on to their traditions and what makes the city unique.
"When you start to lose your traditions, everything changes. If you want to keep your distinct cuisine then you have to have the products that make it distinct," Williams said. "Creole cream cheese is part of our heritage."
For some, nostalgia is sparking the growing movement. "It's bringing back a lot of fond childhood memories for a lot of the older folks," Sussky said. "History repeats itself one way or another, and Creole cream cheese is making a comeback."