Brittany Packnett: "Separating families of color is as American as apple pie."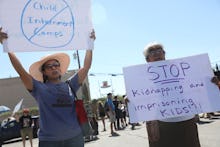 In April, Attorney General Jeff Sessions announced the Trump administration's "zero tolerance" policy on immigration for undocumented adults who cross the border. And since the Department of Justice can't prosecute the children who try to enter the United States with their parents, they are separated for days and sometimes months.
Nearly 2,000 children were separated from parents during the first six weeks of the new policy, according to the Department of Homeland Security.
In a video op-ed for Mic, activist Brittany Packnett calls out the underlying racism in the Trump administration's decision.
"Separating families of color is as American as apple pie," Packnett said. "It happened to indigenous people in this country when this land was colonized. It happened to enslaved Africans as mothers and daughters, fathers and sons were sold off from one another. It happened to the Japanese when they were thrown off into internment camps. And Chinese people, when the Chinese Exclusion Act was the law of the land."
The separation of children from their parents has been condemned by both parties, however Packnett calls out the Republican "family values," in continuing to let Session's "zero tolerance" policy stay in effect.
"What value is there in putting 5- and 6- and 7-year-old boys and girls in detention facilities and treating them like criminals," Packnett said. "I don't know whose family values those are, they're certainly not mine and I wish they weren't yours."
Packnett talks more about it in her latest opinion video for Mic. Watch it above.