'Pose' costume designer Lou Eyrich on using fashion to recreate NYC's 1980s ballroom scene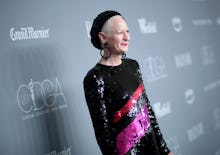 Emmy award-winning costume designer Lou Eyrich has designed costumes for precocious, extroverted high schoolers on Glee, a two-headed Sarah Paulson on American Horror Story: Freak Show and fashion royalty on the most recent season of American Crime Story. If producer Ryan Murphy can think it, then Eyrich can design for it.
Now with FX's groundbreaking new show Pose, Eyrich's been given the task of outfitting the many characters of the ballroom scene in 1980s New York City. Just three episodes into the season, it appears Eyrich has triumphed once again, creating extravagant ball looks that channel Diana Ross, as well as everyday, authentic '80s outfits for the characters in their downtime.
In a recent interview, Mic spoke to Eyrich about the show's fashion inspirations, where she got all those clothes and what surprised her most about the ballroom scene.
Mic: What were your first thoughts when you found out that you'd be taking on this project?
Lou Eyrich: When [Ryan Murphy] first talked to me about it, I hadn't really looked at it as a fashion moment, as much as focusing on realism. I looked at it as more of a research project because I didn't know anything about New York in the '80s because I grew up in Minnesota. It was about turning this story and making it real.
The second part was I really had to educate myself in the ballroom culture and what was going on with the rise of the Trump era and the AIDS epidemic.
What sorts of inspirations or point of references did you draw from?
LE: Like all of the departments, we all shared our research. We got a lot of photography books from the '80s. A lot of black and white images and then the internet definitely, watching Paris is Burning. Then we talked to a lot of dancers and they all had photos to share with us and just talking to them about the time helped a lot.
When you did look back at ballroom culture's fashion in the '80s, did you find anything that surprised you?
LE: I do think that the creativity of people who didn't have a lot of resources and were able to pull off these amazing costumes surprised me. They gave it their all. It was their passion 100%. Whether they had the money or not, they still put together an amazing costume and they would walk with such confidence and that I found inspirational.
Did you all have any specific inspirations for any of the characters?
LE: A couple of Ryan's references for Elektra were Mahogany. Diana Ross was a big inspiration for her and the TV show Dynasty. It just depended on the character. The whole hip-hop era, we used a lot for some of our boys. Dapper Dan we used as a big influence for the men, too, especially Pray Tell's character.
How do you feel like you've been able to reflect the main characters' storylines in the show through fashion?
LE: For Damon's character, coming from New Jersey and from a very conservative household and going out into the world for the first time, he got to blossom into wearing purple silk shirts and more bold colors. To say he was able to come out with his dress, he was able to not just wear sweatshirts and jeans and sneakers, but performance clothes.
For Angel, when Stan got her the apartment, we tried to make her a little more domestic. In the beginning she's a streetwalker and she's very comfortable with who she is. Then she meets Stan and then he disappears, she loses her confidence a bit and then he gets her an apartment and she gets it together again.
Elektra's turned out to be a real standout on the show, when she shows up in these phenomenal head-to-toe looks. How did you think those up?
LE: Ryan Murphy really does know what he wants. It's on the page. [Elektra] is 6'2" and has broad shoulders. She has a model's body, so everything looks good on her. That was handed to us. And then with the '80s, you get those big shoulders and the nipped-in waist.
If I think back, a lot of it was because of her stature, finding enough vintage to pull it off. We got really lucky on a couple of pieces, and we got a lot of Thierry Mugler and YSL.
Where did you get a lot of these clothes?
LE: With her, 75% was vintage that we found, and the other we custom-built. For the balls, we built a lot of her stuff.
On the show as a whole, I would say we'd found 60% and made 40%. We scoured. Vintage '80s stuff isn't that bad because there's still a lot out there. The '80s is easy to find, but we weren't going for the ha-ha '80s, we were going for the styled '80s. That was harder. We scoured every vintage store and Etsy store we could find.
How did you actually get into costume design yourself?
LE: I was living in Minneapolis and it was just all being at the right place at the right time. I had a boyfriend who did lighting for bands and through him I met the costume designer for Prince and then went on tour with Prince for two years, and then Bette Midler, so I was in the music circuit for six to eight years. Then I met a costume designer doing a movie in Minneapolis and I was bitten with that costume bug.
Were you able to use any of your work with Prince on this particular show?
LE: Yeah, we did on Pray Tell!
Can you tell us anything about the fashion that's coming up in these next few episodes?
LE: There's a body episode that's coming up. It's all about loving your body and having the confidence in being who you are. Keep watching!
See the best looks from episodes two and three of Pose.