Instead of campaigning for an Emmy, Gina Rodriguez is sending an undocumented student to college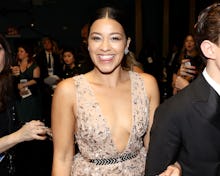 The television industry is in the midst of what is reportedly an over-the-top Emmy campaign season as networks and streaming services compete to get the attention of Emmy voters before this year's awards. For Your Consideration, an annual tradition of wooing the thousands of voters in the Academy of Television Arts and Sciences, has only gotten bigger as the number of prestige shows swells — but one star is forgoing the extravagant campaigning in favor of something totally different.
Jane the Virgin star Gina Rodriguez has convinced the studio behind her CW show to spend the money it would have spent on her Emmy campaign and pay an undocumented college student's tuition instead, the Hollywood Reporter reported Tuesday. "FYC is a bizarre dance," Rodriguez told The Hollywood Reporter. "Whatever you do requires an insane amount of money."
So Rodriguez approached Jane the Virgin showrunner Jennie Snyder Urman about using her campaign allotment from CBS TV Studios to help an undocumented student instead of using it on fancy themed giveaways. Rodriguez partnered with Big Brothers Big Sisters of Los Angeles to find the young woman who ultimately received the tuition money — an incoming Princeton University student who, according to The Hollywood Reporter, will now be able to get through the four years of college "without financial burden."
"It's taboo to talk about the money being spent, but it's the reality," Rodriguez said. "I think sharing this might inspire other people to do something similar. You can desire recognition and, at the same time, decide to not play in the confines of the game as it's set up."
Rodriguez, who is the child of Puerto Rican parents, has spoken out about Latinx visibility in Hollywood, and Jane the Virgin has never shied away from the political. In one ongoing storyline, Jane's grandmother Alba, played by Ivonne Coll, was undocumented for the first few seasons, and lived with a looming fear of deportation. In a tearjerker of an episode in the most season, Alba finally became a citizen.
Jane the Virgin cast member Diane Guerrero, who plays Lina, has also been an advocate for the undocumented community — her own parents, immigrants from Colombia, were deported when she was a teenager, leaving her alone at 14.
"The more that we make the political personal and show people and characters and invoke empathy, then I feel like we can move the needle and try to change things," Urman, the showrunner, told NBC News in February.
"That was the hope: that you would fall in love with the characters and you would get attached to Alba, and then you would understand the difficulties she was facing and the hard choices when was facing and what she was up against in her journey to get documentation ... I think it's easy to write off an idea. It's not easy to write off a person."