Mic Daily: Immigrant suicides in ICE custody, celebrating Juneteenth and more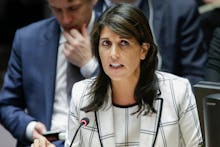 Welcome to Mic Daily: Mic's short, smart email newsletter that cuts through the noise and lands in your inbox every weekday. We carefully curate each edition to send you a cross section of our most impactful, vital, touching stories of the day.
Clara Long, a senior researcher with Human Rights Watch, said the organization's examination of immigration detention centers across the United States over the last seven years showed systemic deficits in both medical and mental health in detention centers, where eight inmate suicides have been recorded since 2010.
"There is a pattern of people with psycho-social disabilities being inappropriately placed in isolation, not receiving adequate mental health care, and dying by suicide," Long said.
The Trump administration is expected to announce Tuesday it will pull the United States from the United Nations Human Rights Council, one day after the body's leader condemned President Donald Trump's "zero tolerance" immigration policy that has resulted in the separation of families at the border.
The latest border-control policy has resulted in numerous immigrant parents being separated from their children at the border. A new crowdfunding effort that launched on Saturday, attempting to get parents out of detention and back to their children, asked donors to help them hit their goal of $1,500.
The group has raised over $5 million and counting.
"How 'bout those biscuits?" chef Brother Luck yelled across the dining room of the illustrious James Beard House. He'd come up from the kitchen after cooking dinner Monday night with three other black chefs from season 15 of Bravo's Top Chef. Between the second and third courses, Brooklyn, New York-based chef Chris Scott served his famous honey butter biscuits — ones that had won over the judges, as well as fellow contestants, in an episode of the popular food competition series.
The Beard House, known for its dinners with esteemed chefs, was hosting its first Juneteenth dining experience. The holiday falls on June 19 and celebrates the day in 1865 that slaves in Texas found out they were free, two and a half years after the Emancipation Proclamation was signed by then-President Abraham Lincoln. It is a celebration of family, food and freedom. The James Beard event was the brainchild of Scott, Luck and fellow Top Chef contestants Adrienne Cheatham and Tanya Holland.
For Your Consideration, an annual tradition of wooing the thousands of voters in the Academy of Television Arts and Sciences, has only gotten bigger as the number of prestige shows swells — but one star is forgoing the extravagant campaigning in favor of something totally different.
Jane the Virgin star Gina Rodriguez has convinced the studio behind her CW show to spend the money it would have spent on her Emmy campaign and pay an undocumented college student's tuition instead, the Hollywood Reporter reported Tuesday.