Today in Trump's America: Trump officials offer callous response to family separations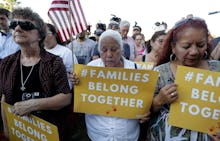 Welcome to Mic's daily read on Donald Trump's America. Want to receive this as a daily email in your inbox? Subscribe here.
Good morning from Emily Singer at Mic.
Here's what's happening in Trump's America:
• Congressional Republicans will spend the day trying to gauge support for an immigration bill that Trump said Monday night he'd sign. Trump's word, however, is not his bond, as he's been known to change his mind last minute — sometimes even after bills have passed and made it to his desk to sign.
About last night: Trump administration officials' callous behavior is on display
That was the reaction from former Trump campaign manager Corey Lewandowski when a Democratic strategist he appeared alongside on a Fox News appearance told him that a 10-year-old girl with Down syndrome was separated from her mother at the border.
Thomas Homan, the acting director of Immigration and Customs Enforcement who is helping carry out the family separations, refused to say whether Trump's "zero tolerance" policy that is leading to the child separations is humane.
"I think, I think it's the law," Homan said on CNN.
And Kirstjen Nielsen, Trump's director of Homeland Security, was heckled out of a Mexican restaurant steps from the White House, as protesters from the Metro D.C. Democratic Socialists of America chanted "If kids don't eat in peace, you don't eat in peace."
"The irony isn't lost on us that this is a Mexican restaurant," the group wrote on their Facebook page, where it broadcasted its protest.
While Trump administration officials show no empathy for the plight of the families being separated, the outcry from across the political spectrum has grown.
Pope Francis spoke out in an exclusive to Reuters, saying he supports the statement from U.S. Catholic bishops, who said the Trump administration's policy is "contrary to our Catholic values" and "immoral."
Steve Schmidt, a Republican who served as a senior strategist on Sen. John McCain's 2008 presidential bid, renounced his membership to the Republican Party early Wednesday morning in a series of tweets condemning the Trump administration's child separation policy.
"29 years and nine months ago I registered to vote and became a member of The Republican Party which was founded in 1854 to oppose slavery and stand for the dignity of human life. Today I renounce my membership in the Republican Party," Schmidt tweeted. "It is fully the party of Trump."
Schmidt said he's "aligned" with the Democratic Party.
"This Independent voter will be aligned with the only party left in America that stands for what is right and decent and remains fidelitous to our Republic, objective truth, the rule of law and our Allies. That party is the Democratic Party," Schmidt tweeted, saying "the GOP has become a danger to our democracy and values."
Today in Trump's America: Republicans struggle with legislative solution to Trump's family separation policy
Trump ventured to Capitol Hill Tuesday night to work out an immigration reform bill with House Republicans, but the lawmakers left the meeting with little clarity on what kind of legislation Trump supports, leaving an immigration bill in limbo amid a crisis at the border, according to Politico.
House Republicans planned to vote on a compromise immigration bill Thursday that would codify the Deferred Action for Childhood Arrivals program into law, while also meeting Trump's demands to cut legal immigration and funding for the U.S.-Mexico border wall.
The compromise bill also addresses the family separation policy, but not in a way that would satisfy Democrats and even some moderate Republicans. The bill would simply allow immigration officials to keep parents detained indefinitely with their children as they await resolution of their cases.
Meanwhile, as House Republicans attempt to pass a sweeping immigration bill, the Senate Republican leadership has its own plans to address family separations with a narrow piece of legislation that would allow families to be detained together.
And a group of 13 Senate Republicans sent a letter to Attorney General Jeff Sessions asking him to end the "zero tolerance" policy that's led to family separations until Congress can pass such legislation.
"We support the administration's effort to enforce our immigration laws, but we cannot support implementation of a policy that results in the categorical forced separation of minor children from their parents," the senators wrote in the letter, which was circulated by Trump-supporting Sen. Orrin Hatch (R-Utah). "We therefore ask you to work with the relevant administration officials to stop the separation of families pursuant to the department's zero tolerance policy while Congress works out a solution that enables faster processing of individuals who enter our country illegally."
As Republicans quarrel internally about how to solve the problem, Democrats have presented a united front against the Trump administration's policy — fanning out across the country to shed light on the plight of children separated from their parents. Democrats say no legislative solution is necessary, and that Trump should simply end the "zero tolerance" policy that's led to the forced separations.
".@SpeakerRyan wants to pass a massive bill that may not even pass the House & couldn't pass Senate, @SenateGOP are supposedly eyeing a bill @realDonaldTrump wouldn't sign even if it made it to his desk & @POTUS continues to try to use separated fams as hostages in the [legislative] process," Senate Minority Leader Chuck Schumer tweeted Tuesday night.
"Anyone who believes this Republican Congress is capable of addressing this issue is kidding themselves," Schumer added. "@realDonaldTrump can end this crisis with the flick of his pen, and he needs to do so now."
And the rest…
"Tender age" shelters: The optics of the family separation policy continue to get worse, with the Associated Press reporting on "tender age" shelters where the youngest children who have been separated from their parents are held. The AP report says that lawyers and doctors who have been to one of the shelters "described playrooms of crying preschool-age children in crisis." The Trump administration has yet to publicly release photos or video from these shelters.
Obamacare repeal: As the country is focused on the humanitarian crisis at the border, House Republicans are quietly waging yet another effort to repeal the Affordable Care Act. The lawmakers drafting the GOP budget are including language that would allow the party to attempt another fast-track ACA repeal that could circumvent filibuster rules in the Senate. The move is risky, given the intense public backlash the GOP received after last year's repeal effort.
More health care news: Trump also announced that health insurance association plans will now go into effect. Trump said at a speech before a business group Tuesday that the association plans would be cheaper and better for Americans. However, the reason they are cheaper is they are not required to cover essential health benefits mandated by the ACA. This means that those who purchase the plans may have lower premiums, but they would face higher out-of-pocket expenses if they needed medical services that aren't covered, which include maternity and mental health services.