Tommy Dorfman, Pearl, Rai Flowers, Chella Man and more team up for Asos x GLAAD Pride collection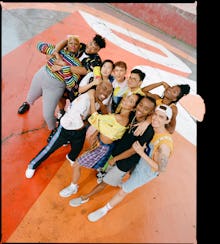 For the second year in a row, Asos has teamed up with GLAAD to create a limited-edition pride-themed capsule collection. Every item of the 22-piece collection is emblazoned with the ampersand to symbolize unity, equality and integrity. Asos is offering the collection in both plus and curve sizing to ensure the line is truly inclusive.
To model the new collection, Asos recruited an ensemble of LGBTQ talent from all walks of life, including 13 Reason Why actor Tommy Dorfman, Matthew James Lent (aka RuPaul's Drag Race season seven finalist, Pearl), makeup artist Rai Flowers, artist and activist Chella Man, musician Trey Campbell, photographer Quil Lemons, YouTuber Ari Fitz, artist Darius Moreno, photographer Elizabeth Wirija and photographer Elizabeth De La Piedra.
"Asos is pretty much what I wear exclusively when I'm in my male form," Lent aka Pearl said in an interview when asked what initially drew him to the campaign. It wasn't just his love of the clothes, but the idea of an evolved meaning for what pride signifies to him.
"I used to take a back seat to my out loud and proudness," Lent said. "I'm a very understated person in general when I'm living my life. And I never really understood the need to really get gay up in people's faces. And now I completely understand. We have to be visible otherwise we'll be... trumped so to speak."
As for Dorfman, who plays out gay character Ryan Shaver on Netflix's 13 Reason's Why, beyond just celebrating, it's about continuing to make a statement.
"I've had a lot of privileges as a queer person and a lot of the battles were fought for me by the time I was an adult, so it's interesting to now come into conflict with an administration that wants to take away so many of the rights that were fought by previous generations for us," Dorfman said in an interview. "I think now more than ever, and part of what this campaign is about, it's about inclusivity within our own community and supporting more marginalized groups as much as possible."
He added: "The reality is there are a lot of LGBTQ people in this world and we are not clearly represented in most media so there more of us that are out and doing this and creating space and creating work, the better it is in the long run."
Check out additional images from the campaign below: