More than half of deaths in ICE custody linked to inadequate medical care, report shows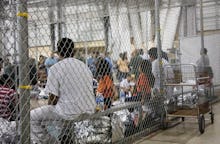 A lack of access to adequate medical care contributed to the deaths of at least eight immigrants held in U.S. detention facilities from December 2015 through April 2017, a new report from a consortium of human rights watchdogs has found.
Titled Code Red: Fatal Consequences of Dangerously Substandard Medical Care in Immigration Detention, the report was released by the American Civil Liberties Union, Detention Watch Network, Human Rights Watch and the National Immigrant Justice Center. During the 16-month period surveyed, an independent team of medical experts discovered that more than half of the 15 "detainee death reviews" reported by U.S. Immigration and Customs Enforcement showed that inadequate medical care had contributed to the person's death.
According to the report, one of those who died was 23-year-old Moises Tino-Lopez, who had two seizures within nine days while in lockup at the Hall County Correctional Center in Nebraska in 2016. Although both seizures were observed by on-duty nurses at the facility, Tino-Lopez was never evaluated by a doctor, and was instead relocated to a "mattress in a new cell" following the second seizure. He was found unresponsive with blue lips four hours later.
In another case, 54-year-old Jose Azurdia became ill and started vomiting at the Adelanto Detention Facility in California in 2015, but an attending nurse refused to check on him, because she said that "she did not want to get sick." According to the report, two hours passed before Azurdia was sent to the hospital, during which his arm went numb and he struggled to breathe — symptoms consistent with a heart attack. By the time he reached the hospital, his heart was "too damaged to respond to treatment."
Silky Shah, executive director of Detention Watch Network, said in a press releasee that the report evidences that immigrant detention centers "are dangerous places where lives are at risk and people are dying."
"The death toll amassed by ICE is unacceptable and has proven that they cannot be trusted to care for immigrants in their custody," she said.
The report comes during a moment of heightened national attention to the conditions facing the growing number of immigrants being held in government detention centers. This has come in the wake of President Donald Trump's newly-enacted "zero-tolerance" policy on immigration. Since Attorney General Jeff Sessions announced the policy in early May, an estimated 2,342 immigrant children have been taken from their parents, according to the most recent numbers from the Department of Homeland Security.
Little is known about the conditions the separated children are enduring, or what the lasting psychological effects of the forced separation will be. A few sparse details have been provided by the government — including the fact that those children are being held in crowded, chain link enclosures that some have said amount to cages, and that "coloring books and snacks" are being provided to them.
"To the extent that Congress continues to fund this system, they are complicit in its abuses," Heidi Altman, the policy director at the National Immigrant Justice Center, said of the government's detention facilities in a press release. "Congress should immediately act to decrease rather than expand detention and demand robust health, safety, and human rights standards in immigration detention."