Corey Lewandowski mocked a child with Down syndrome separated from her mom and refused to apologize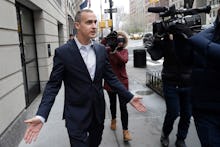 Former Trump campaign manager Corey Lewandowski is being roundly condemned for mocking a 10-year-old girl with Down syndrome who was separated from her mother at the border — rolling his eyes and saying "womp womp" when a Democratic strategist brought up the story during a joint Fox News appearance Tuesday night.
Instead of apologizing for his comment, Lewandowski is digging in and crying "fake news" about his behavior that was caught on camera.
"Lots of Fake News today," Lewandowski tweeted Wednesday morning. "I mocked a liberal who attempted to politicize children as opposed to discussing the real issue which is fixing a broken immigration system. It's [offensive] that the MSM doesn't want to talk about the fact these policies were started under Obama."
It strains credulity for Lewandowski — who now works for a super PAC tied to Vice President Mike Pence — to cry fake news for behavior that was caught on camera.
Let's review what happened:
Democratic strategist Zac Petkanas tells the story about the child with a disability who was separated from her mother.
"Look I read today about a 10-year-old girl with Down syndrome who was taken from her mother and put in a cage," Petkanas said.
Then Lewandowski interrupted.
"Womp womp," Lewandowski said, while rolling his eyes.
This is not the first time a Trump official has mocked someone with a disability.
President Donald Trump himself famously made fun of New York Times reporter Serge Kovaleski at a campaign rally back in 2015. Kovaleski has arthrogryposis, which limits joint movement.
Lewandowski's defense of the policy was also troublesome because the super PAC he works for received a $5,000 contribution from the GEO Group, which helps run the kind of immigration detention centers that Trump's "zero tolerance" immigration policy use.
The GEO Group receives $32 million annually from the government to house detainees, according to NPR.