Low wages and no breaks: Study shows the dark side of the supply chain at Walmart and Whole Foods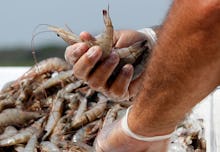 Much of the food in grocery stores is marked with labels that tell shoppers where it came from and how the animals who produced it were treated (whether these labels are meaningful is a whole other story). What's less transparent is how the humans working in the supermarket food supply chain are treated.
Global nonprofit Oxfam released a report Wednesday that illuminates the often brutal and inhumane conditions supply chain workers and farmers are subjected to while they make it possible for items like seafood, produce, coffee and tea to fill supermarket shelves.
"I think no consumer wants human suffering in their food," Irit Tamir, director of Oxfam America's private sector department, said in a phone interview. "Consumers just aren't aware of what's happening — what the working conditions are like for people in these supply chains. When we talk with consumers, we find that they are not interested in having workers rights exploited for the purpose of getting cheap fruit."
Oxfam has launched a new campaign to raise awareness about these conditions. The group created scorecards that assess the policies and commitments of 16 supermarkets around the world, including six of America's largest grocers: Albertsons, Ahold Delhaize (the parent company to Food Lion, Giant and Stop & Shop), Costco, Kroger, Walmart and Whole Foods.
While supply chain workers are not direct employees of the grocers, the corporations have power to demand change from the businesses they work with. "With their huge global reach and influence, supermarkets like Whole Foods could and should play a huge role in reducing poverty, hunger and inequality in their supply chains," Tamir said in a press release. "No one should suffer or go hungry to bring food to our plates. Supermarkets can afford to pay producers a fair price – just a few cents more would change the lives of women and men that make our food."
Using publicly available records on policy and practices and consulting with several benchmarking organizations and experts, Oxfam assessed the grocers on their corporate practices surrounding four different "themes:" They group evaluated the businesses transparency and accountability, treatment of workers, treatment of farmers and treatment of women. Each theme was appointed several indicators. For example, in order to assess transparency and accountability, Oxfam looked at whether the company had foundations in place to effectively manage human rights across its operations and supply chains.
None of these six U.S. retailers earned impressive marks, Tamir said. One potentially surprising finding? When it comes to these brands' supply chains, Whole Foods performed significantly lower than Walmart. In fact, Walmart was the best-performing retailer of the bunch, with an overall score of 17%. Whole Foods earned an overall score of 2%, just a bit above Kroger, the worst-performing U.S. grocer, which received a score of 0%. The highest-performing grocer evaluated was British company Tesco, which earned a score of 29%.
"The hidden workforce in supply chains is a scandal," Sharan Burrow, general secretary for the International Trade Union Confederation wrote in the foreword of the report. "These are the workers on whom multinational companies — like the supermarkets exposed in this report — rely for their profits. Multinational companies knowingly outsource responsibility for the violence, oppression, low wages, insecure and often unsafe work that drives their profits."
In its research into working conditions for food supply workers, Oxfam found that "women often have more hurdles to overcome in order to be successful" in their work, Tamir said. Looking at processing plants and docks in Thailand and Indonesia that supply shrimp and seafood, Tamir said, Oxfam revealed a number of working inequalities suffered by women.
"Women reported they were often food insecure, low wage — particularly to their male counter parts [and often dealing] with sexual harassment and verbal abuse. They're discriminated for maternity leave and often have to overtime in order to make ends meet. There's lots of pressure on them to process a huge number of shrimp in a short amount of time with little to no breaks."
In Thailand, where prawn processing plants supply some of the biggest supermarkets in the world, workers said they experienced forced pregnancy tests and controlled bathroom and water breaks. According to the Oxfam report, more than 90% of seafood processing workers surveyed said they hadn't had enough to eat in the previous month.
Workers in an Indonesian prawn factory told researchers that they are not allowed to bring sanitary pads to work. "I could only change my menstruation pad when I had my rest time in the dorm. That means that workers have to keep the same pad for the whole day," the woman in the photo above said, according to the Oxfam report.
Tamir said the purpose of this research is to motivate retailers to improve their practices and to arm consumers with the knowledge they need to encourage the shops to do so. One way grocers can better those working on the supply chain is to reallocate how resources are funneled to supply chains. Consumers don't necessarily need to pay more for products in order for workers to earn fare wages and working conditions, Tamir said. The earnings just need to be more fairly distributed. Oxfam found in its research. There are more changes to make: "All supermarkets can do much more to empower workers within their supply chains, such as promoting and providing living wages and proactively engaging trade unions in sourcing countries," a press release states.
It's crucial for companies to evaluate workers' rights in other countries — especially those of migrant workers. "Migrant populations aren't covered by the same protections as other workers," she explained. In Thailand, for example, Burmese employees in the fish supply chain do not have the same rights as Thai employees do.
The fight for the rights of food industry workers, be it those in positions at fast food chain restaurants or superstores like Walmart, has gained mobility in the past few years. The exposure has fueled protests and advocacy on many different counts. But food supply chain workers mostly go unseen; they play a somewhat invisible role in the journey from nature to stores. It's up to corporations to propel the conversation and change, and up to consumers to hold them accountable.