Trump signs order to keep families together, backtracking on claim that only Congress could act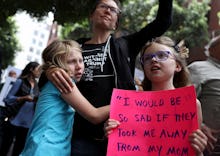 President Donald Trump signed an executive order on Wednesday that will let immigrant families stay together in detainment after crossing the border — reversing the administration's previous claim that only Congress could solve the problem they themselves created.
The order, however, does not end the Trump administration's "zero tolerance" policy — which says that all immigrants who illegally cross the border will be detained and criminally prosecuted.
It goes on to instruct the courts to "prioritize the adjudication of cases involving detained families," but does not set a time frame for resolving cases. That opens up the possibility that some families could be detained indefinitely, possibly for long periods of time, given the backlog of cases and dearth of immigration judges.
Trump touted the order as he signed it in the Oval Office.
"You're going to have a lot of happy people," Trump said.
Previous administrations had "family unification" policies that instructed border agents to keep families together, John Sandweg, the former acting director of Immigration and Customs Enforcement, said in an interview.
We went "out of our way to keep the family together, to keep the family intact," Sandweg said. "So when you had family units come across, it was the policy of the Obama administration and the Bush administration to keep those families intact."
That meant that, however, some families were detained indefinitely, leading to court cases that ultimately led a federal judge in 2015 to demand that the Obama administration release families detained at the border as quickly as possible. Court cases such as the one in 2015 raise the possibility that Trump's executive order could be struck down by a court.
Vice President Mike Pence and Secretary of Homeland Security Kirstjen Nielsen stood beside Trump as he signed the order.
Nielsen has said for days that the White House's hands were tied regarding family separations, and said that only Congress could solve the problem — a statement that ultimately proved to be false given Trump's executive order.
"Congress and the courts created this problem, and Congress alone can fix it," Nielsen said Monday during a White House press briefing.
Trump signing the executive order caps off a week of chaotic messaging from the White House.
Trump has claimed from the beginning that family separations were occurring because of a Democratic policy that demanded he separate children from their parents at the border.
"The Democrats are forcing the breakup of families at the Border with their horrible and cruel legislative agenda," Trump tweeted Friday. "Any Immigration Bill MUST HAVE full funding for the Wall, end Catch & Release, Visa Lottery and Chain, and go to Merit Based Immigration. Go for it! WIN!"
That claim is a lie: It is the Trump administration's own zero tolerance policy that led to child separations.
It remains unclear, however, whether the executive order will mollify the two-thirds of American registered voters who disapprove of the Trump administration's separation of families.
If children continue to be held in detention facilities with cages and Mylar blankets — as images have shown — it's likely that outrage will continue.
In the meantime, congressional Republicans are debating how to handle the issue of immigration reform and family separations — with no agreement on what the legislative body can or should pass.
June 20, 2018, 4:21 p.m.: This article has been updated.