The very adorable history of cat-eye glasses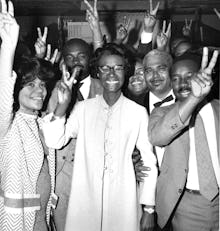 The famous women who have the power to influence fashion and trends — Rihanna, Bella Hadid and Kendall Jenner among them — have spoken. Cat-eye glasses and sunglasses, with that iconic exaggerated and upswept frame, are the chicest thing you can wear this summer.
Who would have thought that the frame silhouette most famously seen on the likes of old-school Barbie dolls and movie stars like Marilyn Monroe would have a renaissance of sorts in 2018?
They've become so lusted over that fashion designer Adam Selman, whose own exaggerated cat-eye sunglasses with the company Le Specs are dearly beloved by the day's top models and influencers, Instagrammed this story:
"Today our babysitter's car was broken into in [Brooklyn]," the text read. "They only stole one thing — her pair of Adam Selman Le Specs. They left her Ray-Bans."
Imagine.
In light of this recent popularity, we wanted to dig into the history of this particular frame, and see how it evolved from an everyday item to a status symbol.
The 1930s: Cat-eye glasses are born, with another name
As Altina Schinasi explained in the documentary about her, simply called Altina, cat-eye glasses were born after she walked by an optician's office and noticed how boring all eyeglasses were at the time. There was also that famous Dorothy Parker line: "Men seldom make passes at girls who wear glasses."
"I thought, well, something better can be done than just these awful glasses that look like the time of Benjamin Franklin," she said in the documentary. "Then I thought, what would be good on a face and I thought of a mask, a Harlequin mask."
And so "Harlequin glasses" were born, with the shape itself inspired by the masks that Schinasi saw in Venice, Italy, with their exaggerated framing around the eyes. After getting turned down by multiple opticians and being told that the glasses were more fit to be worn by lunatics, she finally gained a fan in one glasses boutique in New York City.
Then they took off from there.
The '50s and '60s: Cat-eye glasses gain a wide array of fans
Though they eventually became known as cat-eye glasses, because of the way their flair at the top mimics that of a cat's eye, the frame silhouette gained fans from a wide array of backgrounds by the '50s.
Everyone from movie stars like Marilyn Monroe and Audrey Hepburn, politicians like Shirley Chisholm, professional women and stay-at-home mothers favored the silhouette, which tended to be smaller with a super-exaggerated, upswept flair.
The '60s: Cat-eye sunglasses get bigger
Also in the 1960s, the cat-eye got a bit bigger. In 1961, during the filming of Breakfast at Tiffany's, Audrey Hepburn wore a pair of Oliver Goldsmith sunglasses, named the "Manhattan," that featured edges that turned up.
Due to the popularity of the film, and Hepburn herself, the oversized frames with a bit of flair at the top became a highly popular sunglasses silhouette for women, which we still see to this day.
The 1970s-2000s: Cat-eye glasses aren't really the ideal
Welcome to a very unfortunate 40-year period when cat-eye glasses and sunglasses fell out of favor and weren't exactly the preferred eyeglasses look.
In the 1970s, it was all about sporting large — either circular or square — frames, which women like Jacqueline Kennedy Onassis even favored at the time.
In the 1980s, aviators were the hit, thanks to movies like Top Gun, and the affection for extremely large, face-shielding glasses continued, thanks to women like Princess Diana.
In the 1990s, it was all about those colored lenses, which was unfortunate. In the 2000s, the sunglasses trend was wanting to look like a bug, as Paris Hilton showed effortlessly time and time again.
The 2010s: Itty bitty cat-eye sunglasses for everyone!
And now here we are again, with cat-eye glasses being hugely popular. At eyeglasses stores, cat-eye frames are readily available to ponder. And as far as sunglasses, the cat-eye frame right now is reigning supreme.
Thanks largely to influencers like Bella Hadid, Emily Ratajkowski, Kendall Jenner and stars like Rihanna, cat-eye sunglasses are everywhere from designer boutiques to Target and Urban Outfitters.
It can be a flattering silhouette, even as super-tiny frames tend not to be.
Let's just be thankful metal frames with colored lenses aren't back... yet.