Mic Daily: The growing movement to abolish ICE, Trump signs order to keep families together and more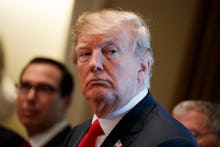 Welcome to Mic Daily: Mic's short, smart email newsletter that cuts through the noise and lands in your inbox every weekday. We carefully curate each edition to send you a cross section of our most impactful, vital, touching stories of the day.
President Donald Trump signed an executive order on Wednesday that will let immigrant families stay together in detainment after crossing the border — reversing the administration's previous claim that only Congress could solve the problem the administration itself created.
The order, however, does not end the administration's "zero tolerance" policy, which says that all immigrants who illegally cross the border will be detained and criminally prosecuted.
As Americans look toward the immigration and family separation crisis at the United States' southern border, a nascent movement to abolish the nation's second-largest criminal investigation agency is catching fire.
A lack of access to adequate medical care contributed to the deaths of at least eight immigrants held in U.S. detention facilities from December 2015 through April 2017, a new report from a consortium of human rights watchdogs has found.
This month, Mic has been looking forward to a more inclusive future in celebration of LGBTQ pride. But Mic contributor Michael Arceneaux points out that it's hard to stay positive when there's still so much progress to be made.
Up until recently, your recycled waste was more well-traveled than the average American. That's because millions of metric tons of throwaway plastics were packed onto boats and shipped to China every day. For years, China acted as the world's trash can, taking in about half of the planet's exported waste — but as of Jan. 1, those imports have been banned.
Now, America's single-use water bottles, takeout coffee cups, straws and throwaway salad bowls are piling up with no place to go. An estimated 111 metric tons of plastic waste will be displaced throughout the world by 2030, a new study found — and that's a serious problem.