TV writers from 'Vida' and 'One Day at a Time' team up to help families separated at the border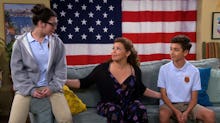 The writers rooms behind two television shows centering on Latinx families have teamed up to raise money to fight family separation at the U.S. border.
Amid the widespread outrage around the news that, under a Trump administration policy, children, including infants, are being indefinitely separated from their parents at the U.S. border — even as families attempt to claim asylum, a form of legal immigration — the writers rooms behind the Starz drama Vida and the Netflix sitcom One Day at a Time have joined forces to raise funds to help.
In a tweet on Wednesday, Gloria Calderón Kellett, the executive producer and co-show runner of One Day at a Time, announced the shared initiative, along with the hashtag #OneVidaAtATime and link to a fundraising page.
The fundraising link goes to support the Refugee and Immigrant Center for Education and Legal Services, a nonprofit that helps provide legal services to immigrants and refugees in Texas. Vida show runner Tanya Saracho posted the same photo on her Instagram page with the message, "Look at this beautiful writers room!! Join them in the #OneVidaAtATime Challenge and donate to @raicestexas to end family separation and deportation!"
Saracho also included a message to inspire more shows to join in the effort, adding, "We challenge the writers of @cwjanethevirgin and @grandhotelabc to donate and support detained families reunite #keepfamiliestogether."
Vida, which has an all-Latinx writers room, just finished its first season. It follows two sisters who return home to East Los Angeles to find their Mexican-American neighborhood is gentrifying. One Day at a Time tells the story of a Cuban-American family, and has dealt with storylines about immigration and discrimination.
The show runners and writers of these two shows aren't the only people in Hollywood taking a public stand against the Trump administration's policy of family separation. Celebs like Lin-Manuel Miranda and Jimmy Kimmel have encouraged followers on Twitter to call their representatives, and singer and activist John Legend, who recently, along with Chrissy Teigen, launched a massive fundraiser for the ACLU, had a succinct message for House Speaker Paul Ryan.
When Ryan tweeted out a Father's Day message, Legend responded, "Seriously, fuck you. Reunite the families at the border and we can talk about father's day."