Today in Trump's America: House to vote on 2 immigration bills that already look doomed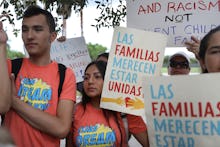 Welcome to Mic's daily read on Donald Trump's America. Want to receive this as a daily email in your inbox? Subscribe here.
Good morning from Emily Singer at Mic.
Here's what's happening in Trump's America:
• The Supreme Court may announce more opinions at 10 a.m. on major cases from the term. Remaining cases include the Trump travel ban, public sector unions, a Texas redistricting case on racial gerrymandering and a case on sales tax for online retailers.
About last night: Trump's executive order doesn't appease critics
On Wednesday, Trump backed down from his week-long claim that family separations were not his fault and there was nothing he could do about them, signing an executive order that directs immigration officials to detain families together. Yet the order does not mollify his critics, who say it will simply lead to families being detained together indefinitely.
"An 11th hour executive order doesn't fix the harm done to thousands of children and their parents," the American Civil Liberties Union tweeted Wednesday. "Trump's order replaces one crisis for another: Children don't belong in jail at all, even with their parents, under any circumstances."
Critics are also outraged that the executive order doesn't address the more than 2,000 children who have already been separated from their parents at the border, with NBC News' Julia E. Ainsley reporting that "No one seems to have a plan for reuniting these 2,300 kids with their parents."
The fact that Trump acted at all is a testament to how strong the public outcry has been against the Trump administration's policy to detain and criminally prosecute every immigrant crossing the border, which led to child separations.
Erik Hanshew, a federal public defender in El Paso, Texas, wrote an op-ed in the Washington Post Wednesday, describing the anguish parents felt after having their children taken from them.
"The client meetings have been crushing," Hanshew wrote. "One man sobs, asking how his small child could defend himself in a detention facility. One cries so uncontrollably, he is hardly able to speak. Question after crying question piles up from one client to the next. One man, short and large, sat hunched over for most of our conversation, weeping. Through tears, he stuttered and glanced up at me as he tried to explain what happened."
Many say Trump's executive order will lead to a new crisis at the border, with families detained indefinitely — possibly in violation of federal law.
"It's extremely troubling that the president's executive order would require immigrant families with children to be detained indefinitely," Sen. Dianne Feinstein (D-Calif.) tweeted Wednesday night. "The order appears to be the next step in the Trump administration's larger agenda to eliminate basic protections for asylum seekers."
Today in Trump's America: House set to vote on pair of immigration bills that already look doomed
House Republicans are scheduled to vote on two immigration bills Thursday: a conservative bill written by retiring GOP Rep. Bob Goodlatte and what's being billed as a "compromise" bill between Speaker Paul Ryan and a group of more moderate Republicans who want to offer protection to some undocumented immigrants currently protected from deportation by the Deferred Action for Childhood Arrivals program.
But hours before the votes are slated to take place, both bills look poised for defeat, according to Politico. The conservative Goodlatte legislation is expected to fail. That bill would give DACA recipients — or undocumented immigrants brought to the U.S. as minors — temporary legal status, rather than put them on a path to legal permanent residency or citizenship. It would also make major cuts to legal immigration, according to Vox.
The compromise bill — which would allow DACA recipients to apply for green cards but also makes cuts to legal immigration, raises eligibility requirements for asylum seekers and allocates $25 billion for Trump's border wall — could go down in flames as well.
A feud broke out on the House floor Wednesday night between Ryan and House Freedom Caucus chairman Mark Meadows (R-N.C.), exposing a rift between leadership and the rowdy members of the far right, who are known to tank bills at the 11th hour.
If both bills fail, it will be another embarrassing failure for Republicans on immigration, coming in the middle of an election year where anti-Trump sentiment threatens the GOP's House majority.
And the rest…
Abuse allegations: Immigrant children held at a juvenile detention center in Virginia are alleging shocking incidents of abuse, including reports of being stripped naked and bound to restraining chairs for days on end, according to the Associated Press.
"They took off all of my clothes and put me into a restraint chair, where they attached my hands and feet to the chair," a 15-year-old immigrant from Mexico, who was held at the facility for nine months, told the AP. "They also put a strap across my chest. They left me naked and attached to that chair for two and a half days, including at night."
You lie: In an eye-popping turn of events, some House Republicans are calling Trump a liar. Trump on Wednesday said in a tweet that House GOP lawmakers cheered when he attacked fellow Republican Rep. Mark Sanford in a meeting Trump attended on Capitol Hill.
"Had a great meeting with the House GOP last night at the Capitol. They applauded and laughed loudly when I mentioned my experience with Mark Sanford. I have never been a fan of his!" Trump tweeted.
But multiple Republicans in the room responded to Trump's tweet, saying Trump was lying.
"Categorically false," retiring Pennsylvania Republican Rep. Ryan Costello tweeted.
Rep. Justin Amash (R-Mich.) went a step further.
"House Republicans had front row seats to @POTUS's dazzling display of pettiness and insecurity," Amash tweeted. "Nobody applauded or laughed. People were disgusted."
Hey, big spender: Former New York City Mayor Michael Bloomberg vowed to spend $80 million of his personal fortune to run Republicans out of their House majority in 2018. In a statement, Bloomberg called House GOP leaders "absolutely feckless," saying that "Republicans in Congress have had almost two years to prove they could govern responsibly" and have "failed" to do so. "And so this fall, I'm going to support Democrats in their efforts to win control of the House," Bloomberg said.
Cohen resigns: Michael Cohen, Trump's personal lawyer facing a serious legal fight, resigned from his role as deputy finance chairman of the Republican National Committee. Cohen cited his legal troubles as one of the reasons for his resignation. But in a twist, Cohen also said Trump's family separation policy was another factor in his decision to step down. "As the son of a Polish Holocaust survivor, the images and sounds of this family separation policy is heart-wrenching," Cohen wrote in his resignation letter, according to ABC News. "While I strongly support measures that will secure our porous borders, children should never be used as bargaining chips."