Who's Sorry This Week? Rachel Maddow, Peter Fonda, Burger King and other public apologies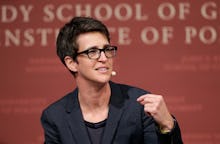 Another week, another deluge of apologies.
In Who's Sorry This Week? Mic tracks down the most prominent mea culpas from celebrities, companies and other public entities trying to make amends for their various screwups.
This week had no shortage of apologies, so let's get right to it.
Rachel Maddow is sorry she started crying during a news segment about immigrant children separated from their parents
During an MSNBC broadcast on Tuesday, host Rachel Maddow began reading an Associated Press report about "tender age shelters" — the Trump administration's term for facilities detaining young children of undocumented immigrants. Many of these children are younger than 5 years old, and it's not yet clear how or when they'll be reunited with their parents.
Maddow only got a few words into the story before choking up, struggling to continue reading as she fought back tears. Eventually, she had to give up and let fellow MSNBC pundit Lawrence O'Donnell take over.
Later that night, Maddow posted a series of tweets apologizing, saying, "It is my job to actually be able to speak while I'm on TV," then linking to the article she intended to read aloud.
Peter Fonda is sorry for saying Barron Trump should be "put in a cage with pedophiles"
Peter Fonda, the 78-year-old brother of actress Jane Fonda, recently weighed in on the Trump administration's policy of separating undocumented immigrants from their children and detaining them in cages.
"WE SHOULD RIP BARRON TRUMP FROM HIS MOTHER'S ARMS AND PUT HIM IN A CAGE WITH PEDOPHILES AND SEE IF MOTHER WILL STAND UP AGAINST THE MASSIVE GIANT ASSHOLE SHE IS MARRIED TO," Fonda said in the now-deleted tweet, according to HuffPost.
Donald Trump Jr., Barron's half-brother, called Fonda, "a sick individual," challenging him to "pick on someone a bit bigger."
Fonda soon deleted the tweet, and in a statement sent to USA Today, apologized for his vulgar outburst.
"I tweeted something highly inappropriate and vulgar about the president and his family in response to the devastating images I was seeing on television," Fonda said, via a representative. "Like many Americans, I am very impassioned and distraught over the situation with children separated from their families at the border, but I went way too far. It was wrong and I should not have done it. I immediately regretted it and sincerely apologize to the family for what I said and any hurt my words have caused."
Charleston, South Carolina, is sorry for its role in the slave trade
Tuesday night, at city hall in Charleston, South Carolina, the Charleston City Council passed a resolution formally apologizing for the city's role in the slave trade. (About 40% of enslaved Africans brought to North America came through Charleston, according to the New York Times.)
The resolution also includes a number of steps meant to help the city's black communities, such as creating an "office of racial reconciliation," improving public education and creating memorials for the unmarked graves of enslaved Africans, according to the Post and Courier.
"The world is looking," Councilman William Dudley Gregorie said, according to the Post. "This document ... apologizes for the atrocities of the past."
Not everyone was happy with the resolution, however, saying it was merely a bandage and didn't address the deeply rooted issues African-Americans face in Charleston.
"Without economic empowerment — as a descendant of slaves — I cannot support this resolution," Councilman Keith Waring said.
Nevertheless, the resolution passed 7-5. Charleston mayor John Tecklenburg supported the measure, and characterized the resolution as an important step to healing the pain of the past.
"Do we have a reason to be sorry, to apologize?'' Tecklenburg said, according to the Times. "We do."
Burger King is sorry for an ad that promised free Whoppers for people who got pregnant by World Cup players
For a few days, users of VK (the Russian equivalent of Facebook) may have seen a Burger King ad offering a lifetime supply of burgers and 3 million rubles — approximately $47,000 — if you managed to get impregnated by a World Cup player.
"For these girls, it will be possible to get the best football genes, and will lay down the success of the Russian national team on several generations ahead," the ad said, translated from Russian, according to Deadspin. "Forward! We believe in you!"
The ad was up for several days, but eventually was deleted Tuesday. Burger King also released a statement apologizing for the ad.
"We are sorry about the clearly offensive promotion that the team in Russia launched online," Burger King said, per the Washington Post. "As soon as it was brought to our attention, we had it removed. It certainly does not reflect our brand or our values and we are taking steps to ensure this type of activity does not happen again."