Movement Must-Reads: #AbolishICE, #WeWalkForHer and a summer of peace in Chicago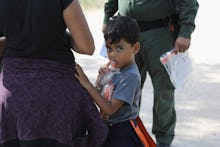 The Trump administration's family separation policy aimed at deterring Central American and Mexican immigrants from traveling to the United States has spurred heated debate over the past week or so — including a growing movement to abolish U.S. Immigration and Customs Enforcement, the agency responsible for carrying out much of Trump's mandate.
That and two anti-violence marches in Chicago, plus a meditation on Pride Month and the suicide of an Eritrean asylum seeker while in ICE custody, constitute the bulk of Mic's Movement coverage this week. Read on for more.
Like this newsletter? Subscribe here.
From Mic:
A.P. Joyce on the bourgeoning political movement to abolish ICE.
Teen journalist Malick Mercier on the Summer of Peace March against gun violence, which took place in Chicago on Friday.
Michael Arceneaux on being black, gay and proud but remaining cool on America's annual pride celebrations, which he argues too often ignore nonwhite contributions to LGBTQ politics and culture.
Natelegé Whaley on the #WeWalkForHer march in Chicago, which was organized by a 13-year-old girl to raise awareness around missing black girls and women in the city.
And Sheila Regan on Zeresenay Testfatsion, an Eritrean asylum seeker who died by suicide in ICE custody June 6, several months after being detained at the U.S.-Mexico border.
From elsewhere:
This stunning report from Reveal about the taxpayer-funded shelters used to house migrant children, many of which continue to receive lucrative government contracts despite reports of severe lapses in care, including physical and sexual abuse of children.
The Atlantic on the Trump administration's policy of separating migrant children from their families at the U.S.-Mexico border, and how it embodies Trumpism in its purest essence.
And a powerful essay at Jezebel on reclaiming the word "animals" from being used as a pejorative against immigrants.
That's all for now. Until next week.
Like this newsletter? Subscribe here.