Facebook enforces new regulations for gun accessory ads. Here's what you need to know.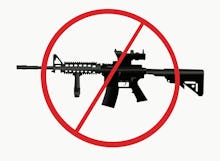 Facebook may be bringing video ads to its Messenger app, but don't expect to see anything about gun attachments if you're under 18.
According to a blog post on its website, people under 18 will no longer see ads for weapon accessories on Facebook. This includes items like flashlights or scopes one would mount on a gun and even gun holsters you'd attach to a belt.
"Unlike posts from friends or pages, ads receive paid distribution," the Facebook post said. "This means we have an even higher standard for what is allowed and why we have chosen to limit weapons accessories to an adults only audience."
The company already prohibits ads selling weapons themselves. A post like "Cheap firearms: Buy now," for example, is out of bounds, but an ad linking to groups with weapon-related interests is fair play.
Facebook's relationship with advertisers spent some time in the spotlight when former research director Christoper Wylie blew the whistle on Cambridge Analytica — exposing just how much Facebook gave access to users' personal data to their third-party partners. Since then, Facebook has altered how ads and news appear on your newsfeed, and has employed fact checkers to address its fake news problem around the world. Facebook has even dialed back the amount of time other companies are able to access your personal data.
Users of Facebook are required to be at least 13 years old, and setting the minimum age of gun accessory ads to 18 years old could better limit youth exposure to tools used for violence. Tragedies like the Santa Fe High School shooting, the Parkland, Flordia, shooting at Marjory Stoneman Douglas High School and 20 other school shootings so far in 2018 indicate the trend of a larger problem. Facebook's actions may not be the cure, but they offer a start.