Progressive groups plan to air ads of crying migrant children nationwide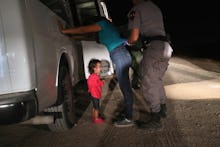 When the investigative news organization ProPublica first released the now-infamous audio of a crying 6-year-old child who had been separated from her parents at the border, they quickly captured the attention of concerned citizens everywhere.
The harrowing clip became so instantly ubiquitous that ProPublica's website briefly went down as everyone rushed to hear just what kind of human toll the Trump administration's family separation policy was exacting.
Now national progressive groups are working to make sure that the nation does not forget what it sounds like when a child is ripped away from their parents.
On Thursday the Progressive Change Campaign Committee gave Mic an exclusive preview of a 30-second ad they are planning to run in major media markets in Washington, D.C., and across the country.
The ad opens on a black screen as the sounds of the crying 6-year-old Salvadoran girl pleading with immigration officials to call her aunt play. Subtitles flash across the screen as a border agent jokes about the chorus of weeping children saying, "We have an orchestra here."
It ends on a question, "This is Trump's America. Is it yours?" before cautioning viewers to remember the sound of the children's cries when they go to the polls for the November midterm elections.
"This ad helps bring into focus the fact that public pressure is not going to let up," PCCC spokesperson Marissa Barrow said in an interview. "It's only going to intensify."
PCCC said it plans to run the ad first in the D.C. media market with what they call a "significant" ad buy. They then plan to expand the campaign to media markets in places like California, Nebraska and Kansas, where incumbent GOP representatives are "supporting Trump's agenda" on immigration.
In addition to the PCCC's ad, another ad from anti-Trump billionaire Tom Steyer's group Need to Impeach in partnership with the Latino Victory Fund will also run a similar ad featuring the same audio and calling on people to "call Congress now" and demand that their representative oppose President Donald Trump.
"If they won't stand up to him, they're just as responsible as he is," the ad concludes, displaying a phone number to connect constituents to their representatives.
On Wednesday, Trump attempted to walk back his family separation policy by signing an executive order to keep families together. But critics say that the order is riddled with loopholes, will force children to be held in adult detention centers with their parents and does nothing to reunite families that have already been separated.
Many Republicans have already begun to worry that Trump's family separation policy will devastate their chances of holding onto power in November's midterm elections.
"It's not just affecting border districts but suburban women as well," one anonymous GOP operative told CNN.
Still, some Republican candidates have embraced and defended the policy as a winning political issue for their party.
"If people knew when they came here what would happen we would not have this situation," Pennsylvania GOP Senate candidate Lou Barletta said in an interview with a local Pittsburgh news outlet on Friday.
Now those politicians will have to contend with a barrage of ad campaigns that highlight the policy, including the chilling audio and photos that prompted such widespread outrage.