Lawsuits allege widespread abuse at immigrant detention centers where minors are being held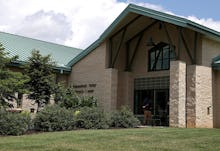 Unaccompanied immigrant children held in private, government-funded juvenile detention centers are alleging widespread physical and mental abuse in a pair of lawsuits that have surfaced amid the influx of immigrant children being separated from their families.
The lawsuits, which detail abuses of unaccompanied minors who were not among those affected by the Trump administration's family separation policy, demonstrate the broader pattern of abuse that allegedly takes place at private juvenile detention facilities. The class-action lawsuits, which were filed in October and April in Virginia and California, respectively, were brought on behalf of unaccompanied minors abused in the facilities.
The alleged abuse detailed in the lawsuits is indicative of a broader problem, as a number of private facilities where immigrant children have been detained have a history of abuse, according to a Reveal report. State inspectors in Texas cited private facilities for more than 400 deficiencies, which include failure to seek medical attention for children and "inappropriate contact" between children and staff.
These private facilities are funded by the federal government. According to Reveal, the Office of Refugee Resettlement paid $3.4 billion to private companies housing migrant children between 2014 and 2018, many of which went to nonprofit and religious organizations. Of those funds, $1.5 billion — 44% of the total amount — was paid to 13 companies that have received citations or faced serious allegations of abuse.
Among the private facilities now under scrutiny is the Shiloh Treatment Center in Manvel, Texas. According to a lawsuit filed in April in California against the federal government over the treatment of minors at ORR-funded facilities, the Texas facility's abuses against minors in its care include forcing them to take psychotropic drugs.
The lawsuit alleges that children at Shiloh are forced to take medication at the facility without any ability to challenge the medication or the facility obtaining permission from their parents to administer the drugs.
"The staff threatened to throw me on the ground and force me to take the medication," an immigrant minor identified as Julio K. is quoted as saying in the lawsuit. "I also saw staff throw another youth to the ground, pry his mouth open and force him to take the medicine.
"They told me that if I did not take the medicine I could not leave, that the only way I could get out of Shiloh was if I took the pills."
In a letter filed in support of the lawsuit, Leecia Welch, who is one of the attorneys representing the plaintiffs, noted the "profound and long-lasting impacts" the medications have on children. Welch quoted a federal district court judge, Nanette K. Laughrey, on the power of psychotropic drugs.
"Children administered psychotropic medications are at particularly serious risk of long-lasting adverse effects," the letter states. "They are more vulnerable to psychosis, seizures, irreversible movement disorders, suicidal thoughts, aggression, weight gain, organ damage and other life-threatening conditions."
One immigrant minor identified as Javier C., whose declaration was filed in court documents, reported being "provoked" by Shiloh staff to "act violently" so he would have to be given injections of medication. He said he also experienced staff members violently grabbing the minor's arm and twisting it behind his back.
"The staff would insult us and call us names like 'son of a whore,'" he said. "They often did it in English, but I understood some English so I would know what they were saying and get really angry."
"Two of the staff members were violent with me," he wrote in his declaration. "One was a teacher whose name was 'Hors,' he called the medical staff to the classroom to give me shots many times. One time, I got angry in class and wanted to leave the classroom. I was sitting down, but he came and touched me, so I got angrier. Then he grabbed me and twisted my arm behind my back, then lifted up so I felt like my shoulder was breaking. I screamed. The teacher had done the same thing to one of my friends."
The lead plaintiff in the lawsuit is Jenny Lisette Flores, whose 1997 settlement with the government established guidelines for minors in immigrant detention facilities. The settlement included certain standards that facilities must meet, as well as stipulate that the government must release children from their custody without "unnecessary delay."
The Shenandoah Valley Juvenile Center near Staunton, Virginia, is also under legal scrutiny, after a class-action lawsuit was filed in October on behalf of immigrant minors who have been detained there. The lawsuit, though filed by John Doe, a 17-year-old Latino immigrant in detention at the facility, states that Doe "represents a class of immigrant children" who have been abused at the facility and is seeking relief "on behalf of himself and all similarly situated immigrant children."
The lawsuit alleges widespread abuses against the immigrant minors in the facility by staff members "routinely insult[ing], taunt[ing] and harass[ing]" the minors on the basis of their ethnicity; stripping minors of their clothing; confining them to their rooms; restraining them in chairs for hours at a time; and staff members physically abusing the minors by "applying an excessive amount of force that goes far beyond what is needed to establish or regain control."
"One immigrant detainee was physically assaulted because he failed to comply with a directive to leave his book in his room when he went to class," according to the lawsuit. "Although the child had not exhibited any physical aggression, three SVJC staff members reacted to his refusal by shoving him into his room, placing handcuffs on him and forcing him to his knees."
The lawsuit states the staff members pushed the boy face down into the concrete floor until his face was red, and then proceeded to lock him in his room for eight hours.
The lawsuit also alleges the Shenandoah facility is "both structurally and fundamentally, a prison," describing conditions in which children are locked in their rooms for 12 to 14 hours a day and fed "substandard" meals. The facility also does not provide adequate mental health care and is "deliberately indifferent to [the immigrant detainees'] serious medical needs," the lawsuit states.
According to the Associated Press, the Shenandoah center is one of three juvenile detention facilities funded by the federal government to provide "secure placement" for children who had faced problems at other, less restrictive facilities. The detainees were being processed as gang members, even though sources cited by the AP noted that many of the children were instead facing mental health issues from traumas sustained in their home countries.
The lawsuits center on claims made before the Trump administration's family separation policy took effect. However, Southwest Key, a private company that houses children separated from their families in a converted Walmart in Brownsville, Texas, has been cited by state inspectors for nearly 250 violations, according to Reveal and ABC News. According to ABC News, the citations include instances where children were not given prompt medical care and housed in rooms that reached an "unsafe temperature," while staff members were cited for showing up to work drunk, "belittling" children and, in one case, having an "inappropriate relationship" with a child.
The Trump administration's "zero tolerance" policy that resulted in the widespread separation of immigrant families has drawn nationwide outrage in recent days. Though Trump signed an executive order Wednesday advising the Department of Homeland Security to keep families together in detainment — opening up the possibility that immigrant families could be detained indefinitely — the administration reportedly has no plan to reunify the more than 2,000 children that have already been separated from their families.