House Republicans fail to pass conservative immigration bill, postpone vote on compromise bill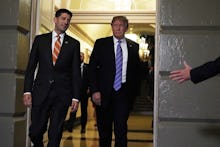 House Republicans on Thursday failed to pass a conservative immigration bill that would have offered only temporary protection to Deferred Action for Childhood Arrivals program recipients while also making drastic cuts to legal immigration.
The bill — which failed on a 193-231 vote — would not have provided DACA recipients a path to citizenship. It merely would have allowed them to maintain their temporary legal status, and renew it every three years, according to Vox.
The conservative bill also would have made significant cuts to legal immigration by nixing the diversity visa lottery and family-based immigration, Vox reported.
The fact that votes on immigration bills are happening at all is because of an effort by moderate Republicans who grew tired of their party's failure to act on immigration.
Those moderate Republicans nearly succeeded in garnering enough votes for what's called a "discharge petition" that would have forced votes on a number of different immigration proposals, including one that may have passed with a majority of Democrats and a small number of House Republicans.
In an effort to squash that effort, House Speaker Paul Ryan brokered a deal with his entire caucus to vote on two immigration proposals: the conservative bill that just failed in the House, and another "compromise" bill that provides protections for some immigrants but also gives President Donald Trump some of his legislative priorities such as wall funding and narrower cuts to legal immigration.
That compromise bill will is now scheduled to come up for a vote on Friday morning, after leaders postponed the initial vote that was supposed to happen Thursday.
In a Thursday morning tweet, Trump suggested that anything the House passed wouldn't pass the Senate anyway, giving already wary conservatives a reason to vote against the compromise legislation.
"What is the purpose of the House doing good immigration bills when you need 9 votes by Democrats in the Senate, and the Dems are only looking to Obstruct (which they feel is good for them in the Mid-Terms)," Trump tweeted. "Republicans must get rid of the stupid Filibuster Rule-it is killing you!"
The entire effort is yet another embarrassment for House Republicans, who waded into the contentious immigration debate only to see the effort crash and burn thanks to Trump and the hard-liners in their caucus.